Everyone in Bideford knows where the Burton Art Gallery is, nicely situated in Victoria Park, adjacent to parking and Hockings' Ice Cream van. But how many people know why it's called the Burton Gallery? Was there someone called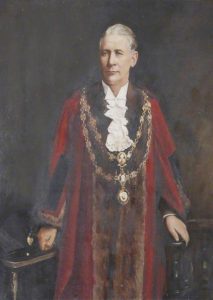 Burton? Well, there certainly was, and that man was a grocer. Thomas Burton was born in Surrey in 1875, and came to the West Country as an apprentice to Tanner's grocers, of South Molton. We don't know the bit in between, but the rest is recorded. Before long he appears as Manager of the International Tea Company in Yeovil, aged 23. He heard there were jobs in Bideford, and arrived in 1898 – 'with a good stock of clothes, a good character and nothing more.' He soon became Manager of Tattersill's, the Bideford grocer. He fell in love, and in 1903 married a Bideford girl, Bertha Bishop, daughter of an Antique Dealer in Market Place. Their daughter, Mary, was born in 1906, but by that time, Thomas had his own grocery shops, one at the bottom of Grenville Street, and another in Mill Street. He was very successful and decided to go to London and seek his fortune. He was both grocer and fishmonger there, and again, made a success. In 1919, at the age of 44, he returned to Bideford, having sold his shops – the London enterprises to Lord Leverhulme, and the West Country shops to Macfisheries.
He was now a wealthy man, and could have sat back and enjoyed early retirement. But Thomas was not like that. He virtually threw himself into Bideford life. Already a Methodist lay-preacher, he became Circuit Steward and Sunday School Superintendent, and was Treasurer to the Bideford Trust, and Secretary to the Methodist Union. He became a Bideford Councillor in 1923, and served on the Finance Committee. He was much respected, and his Directorships were many, such as those of the Area Guardians (the Workhouse), Fire Brigade, Joint Hospital Committee, Gas Company and North Devon Permanent & Terminal Building Society. He was President and Chairman of the Liberal & Radical Club. He enjoyed music and sport, especially rowing, and was Vice-Chairman of the Regatta Committee. Bideford Council elected him Mayor in 1931, and his year of office was filled with engagements. That winter, he sponsored a Soup Kitchen in the Market for over 1000 children, the unemployed, the hungry. He co-founded Sudbury's Glove Factory, giving employment to hundreds of women. He encouraged young people to take part in activities, both political and communal, and took 100 children from Bideford schools to Devonport, when he was invited, as Mayor, to see H.M.S. Bideford leave for the Persian Gulf.
His daughter Mary attended Westbank School (later Grenville College) while her parents lived in London. At 16, she graduated to Bideford Art School, and became proficient in drawing. Later, she married Jack Meredith, who managed the Hardware Shop in High Street, which Thomas bought in 1938. Mary carried on her love of art, collecting antiques and china. Elected to the Westward Ho! Art Society committee in 1932, she took an active part in its function. But this all ended in the 1940s, when Mary developed cancer, and sadly died on 4th May, 1949, aged 43. Thomas and Bertha were devastated at losing their only child, and wished her artistic talents to be remembered. Thomas anonymously offered £5,000 to Bideford Council for an art gallery, but then admitted that it was his gift to the town. On October 31st, 1951, the Mary Englefield Meredith Art Gallery was opened, and Thomas and Bertha signed the visitors' book. Thomas died in 1959, and in his memory the name was changed to the Burton Art Gallery. It soon became Bideford's best asset, filled with paintings and antiques donated from many quarters. Many important exhibitions from galleries all over the U.K. have been shown there.
The Museum was added later when the Gallery was extended in 1994. In 2016 a Trust took over management from Torridge District Council, and the Gallery is now known as 'The Burton at Bideford'. There have been many changes over the years, but its founder will never be forgotten.
Diana Warmington.
__________________________________________________