Many people have asked me about the different smoked versions of Clovelly Herring that are so plentiful in December. Traditionally the herring would be smoked to eat through the winter months, so I have added a very simple recipe for 'Kippercakes' that can be made in a batch and use for quick delicious breakfast or supper.
Here are all the types of smoked herring we sell on our stall; more info on Appledore Sustainable Fish facebook.
Kippers – Split and cold smoked Clovelly herrings, either whole on the bone or boned.
Bloaters – Cold smoked whole fish: requires short cooking time.

Bucklings – Hot smoked Clovelly herring: whole fish smoked, ready to eat.
Cold smoked cured kipper fillets; Ready to slice thinly and ready to eat.

Red Herrings: smoked whole, and in the kiln for at least a week!  Combine into a fish dish.
The simplest way to cook our Clovelly kippers is to jug them in a modern way-
Remove the kippers from the packaging and place the kippers – boned or whole in the bottom of cooking pot with a close-fitting lid.
Pour boiling water over the fish until they are totally submerged and replace the lid, thus trapping the steam.
Leave to steep for 5-15 mins, depending on size, turning over if the kippers are large – most Clovelly kippers will only require 10 mins.
Remove from hot water and pour away this water in the drain outside – to stop the fish smell in the kitchen/house.
Dress the kippers with a knob of butter, a squeeze of lemon and freshly ground pepper.
Eat with brown bread-fresh or toasted and a squeeze of more lemon – Delicious!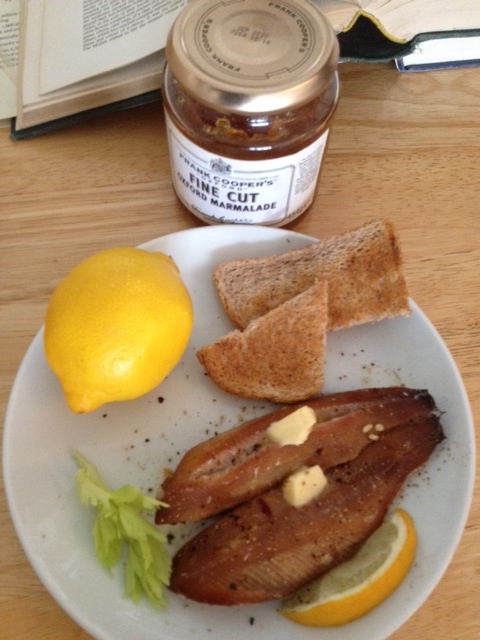 Mackerel or Kipper Cakes.
Serves 4
Ingredients.
455g kipper or smoked mackerel fillets, fresh or defrosted, skinned
Beaten egg. Worcestershire sauce. 170g fresh breadcrumbs, lemon.
Method.
Preheat grill.
Place fillets into a food processor or blender. Process or blend until finely flaked.
Stir in egg, dash Worcestershire sauce and breadcrumbs.
Divide mixture into 8 pieces and shaped into 5cm rounds. Chill for 10-15 minutes.
Cook under low grill for 8-10 minutes, turning once.
Garnish with lemon and serve with salad and tomato and onion relish.
Excellent breakfast dish ; recipe from 'Seafood Kitchen'.
__________________________________________