Here is a wonderfully flexible and tasty recipe for a pasta cod dish. The original is a recipe from a restaurant in Rome -so an authentic Italian / Mediterranean dish. The best fish to use is salt cod. I used some fish from Newfoundland given to me by a cod fisherman from Petty Harbour near St Johns, when I visited in July. I also use fresh spinach for the vegetarian dish -both versions are delicious. You can use fresh cod or even local caught pollack as well.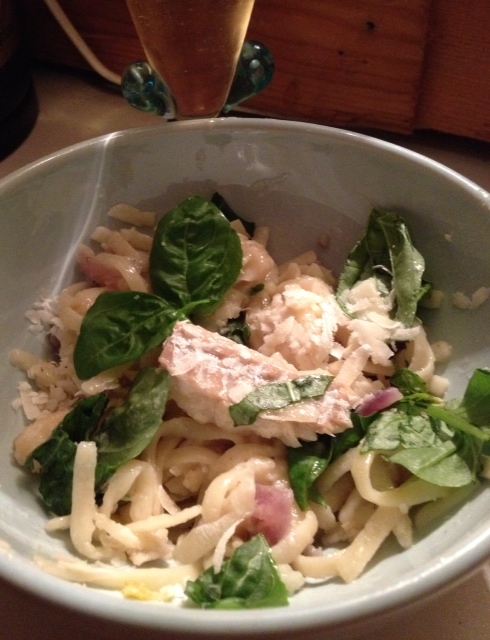 Tagliatelle with Cod and pecorino cheese. (vegetarian version with fresh spinach leaves).
Ingredients
For the Stock-2 sticks of celery and chopped onion, fennel trimmings or seeds, parsley stalks and block pepper or peppercorns. 350g cod fillet (or salt cod fillet, if available).
50-100g of fresh washed spinach leaves – for a vegetarian dish.
1 small onion (could be red onion, for added colour).
6 tbsp. olive oil.
450g tagliatelle or spaghetti.
100g pecorino cheese, or ready grated Italian cheese.
Method
Simmer the stock ingredients together for about 15 min Poach the fresh cod in the stock for under 5mins, or soaked salt cod for 10 mins. Lift out with a slotted spoon, blot with kitchen towel and pull away from skin, and using a fork flake the fish and set aside in a bowl. If using spinach leaves wash the leaves and set to dry in a colander.
Cook the pasta in plenty of salted water until al dente. Chop the onion into chunky pieces. In a large frying pan fry the onion in the olive oil until soft and lift the pasta with any residual water clinging to it.
Pull the pan from the heat, add the cheese and mix vigorously until creamy – adding extra pasta cooking water, if necessary. Add the torn basil and fish flakes (or spinach leaves) toss again, and serve.Add more grated cheese and garnish with basil sprigs.
This tastes absolutely delicious whether with fish or spinach leaves.
September was a busy Fish Festival month with Festivals in Newquay and Brixham. Wouldn't it be good if we could have a fish festival in Appledore Fish Dock next year to celebrate both River and Sea fishing? Let me know if you would like to contribute to this idea? brillianfishsw@gmail.com. Next month is Herring Month with recipes for fresh and smoked Herring.
The Bideford Bridge Trust has awarded a grant to two Primary schools in Bideford for the Brilliant Fish Education group to run "History of Fishing in Newfoundland and Salt cod recipe demonstration/tasting sessions this Autumn.
__________________________________________________