The Club began life in 1919 as the stables for the Heavitree Inn. In 1926 it was the Palladium Cinema and the ticket office was situated where Patts' Fruit and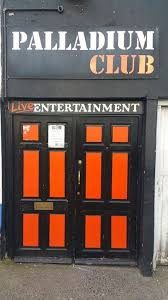 Vegetable shop now is in Mill St. Later it became a Gentlemen's Club, then for many years it was the home of the SWEB Social Club.The Palladium Club developed from this, with the bar made from the original skittle alley.(You can still see the brass points where the pins used to be placed before people played.)
The club has evolved from being a members' drinking club to what it is now, a music venue with acts, both from our local area and as far away as Europe and America. The club also offers the facilities for snooker, pool and darts and has its own teams which continue to support the club.
The club is an important part of Bideford giving musicians a place to play and learn their craft – it would be very sad to see it go. The new owner is Ben Nigh ; we wish him well.
Margie Hughes (former owner).
____________________________________________