It's funny how Facebook opens up all sorts of windows and lets us see inside other people's lives. The latest "7 facts that you may not know about me" has resulted in this article.
My mother, Julianna Ibolya Homolya, left Hungary with just me and one suitcase after the Hungarian Uprising of 1956. Mum was 24 years old and I was two. Neither of us spoke a word of English. After catching a train and walking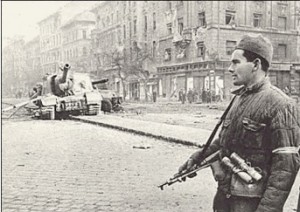 for miles to a "safe" opening in the barbed wire fencing that was all around the border of Hungary and Austria, then spending a few nights in an Austrian farmer's barn along with several others, we ended up initially in a refugee camp in Austria. Then we were allocated a space in England.
After reading this on Facebook, Rose Arno, Bideford Buzz's Editor, responded by telling me that she clearly remembers, as a schoolchild, knitting woollen squares for blankets for Hungarian refugees. I can happily say that not only were we, as a family, grateful for one of those blankets and indeed had it for many years, but so were all the tenants of the house that we lived in when we finally arrived in the Midlands in 1958.
So how did I get to be living in glorious Devon? It has been my dream to live in Devon for almost thirty years, along with my other dream of owning a Bistro. It has been a long and eventful journey and I have made so many friends and hopefully introduced a tiny corner of Hungary to the Devon coastline. Imagine it started with the clothes on my back, a few changes of undies and a tenacious and brave young woman. Thanks, Mum.
Here is a classic Hungarian dish for you to try, which many of you will think is Goulash, but it is in fact Pörköltt. 'Guylas leves', translated to 'Goulash', is in fact a soup – Hungarians generally have a soup before every meal and Gulyas leves used to be eaten on the Plains by herdsman, made in huge tureens, much like the cowboys in America.
Take a look at my Facebook page – Nanna's Kitchen, Combe Martin. You will see menus and opening hours and will be able to buy sachets of the herbs and spices needed to make this dish and others, in the right quantity and using Hungarian Paprika and Hungarian Marjoram. ENJOY!
Ildi McIndoe.
'Pörköltt' – Paprika Casserole.
(Serves four).
Ingredients
500 grams diced pork, from loin of pork.
1 tablespoon oil – sunflower, rapeseed, or vegetable.
1 large onion.
1 clove garlic.
1 tin chopped tomatoes.
1 large tablespoon of sweet Hungarian Paprika.
1 heaped teaspoon of Marjoram.
Salt and pepper.
Garnishes.
Small pot of sour cream
Finely chopped fresh parsley
A few thinly chopped sweet and sour gherkins.
Serve with chosen pasta shapes.
Method.
Finely dice onion and clove of garlic (or,for a better sauce, use a food processor or mini chopper to finely chop).
Heat the oil in a large frying pan ; add the onion and garlic and fry very gently, taking care not to overcook. It should stay translucent.
Keep it at a low heat for about ten minutes. When the onion and garlic have soaked up all the oil and are soft and golden, add the pork pieces and brown on all sides.
Add the Hungarian Paprika and Marjoram and just coat all the pork quickly. Add the tinned tomatoes and stir well to combine all the ingredients. Bring to the boil, add salt and pepper to taste.
Leave to simmer gently with a lid on for about thirty minutes. Take off the lid and test a piece of pork to see if the meat is cooked. If not, put the lid on and leave for another 10 minutes. Be patient, do not rush this point. You need the pork to fall apart when gently pressed.
If the sauce is too watery then remove the lid and cook gently until the sauce thickens to a coating sauce, as this will be served with pasta.
Serve with pasta that has a little bite, so that it still wants to soak up the sauce. Add the Pörköltt on top of the pasta and for a final authentic flourish add a tablespoon of sour cream on top and a sprinkling of finely chopped parsley.
____________________________________________________________