As promised in last month's Buzz here is the poem about Appledore written by George Douglas Warden (father of Audrey Jones of Bideford) , who was wounded and lost his sight in World War One.
(Contributed by Audrey's daughter-in-law, Eleanor Jones).
'A little port'.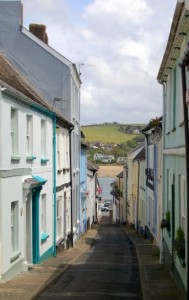 In Appledore, the cobbled floor
of many a steep and narrow way
seems ready to leap across the quay
over the bar and out to sea,
dancing away with a thousand years
of Devon lore from Appledore.
Like a wandering child by love beguiled
a coaster hugs the maternal quay
her lullaby the sound afar of the lone low beat
of the harbour bar.
So old, this place that time it seems
is kept in store at Appledore.
Within a maze of weathered stays
of stocks and struts and stilted beams
a toy ship waits in a toy dry dock
for her overhaul and painted frock
they're 'broidering "Laura" on her breast
say the crew ashore in Appledore.
Old men tell tales of winter gales
clattering boots on cobbled ways
of daunting wave and doleful bell
when they launched the lifeboat into hell
of widows mourning measured by
the weeds they wore in Appledore.
But lazy days in summer haze
and idling on the quiet quay
put thought's winter far behind
like migrant swallows outward bound.
So on this splendid tragedy, I'll swell no more
in Appledore.
____________________________________________________________