There were three wards: male, female and children's. Off the corridor leading to the female ward were three rooms for private patients.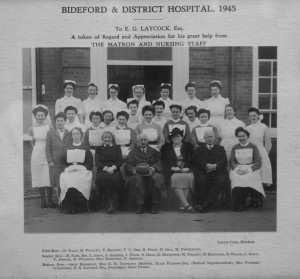 The staff, as far as I can remember, included the Matron, Miss Daymond. There was one Welsh SRN and two Irish SENs. The rest of us were students and we students were often left in charge of the ward. As a student nurse left in charge one night I forgot to hand in the key to the drugs cupboard. Luckily they found me downstairs in a lecture so I hadn't left the building!
On nights there would be one night nurse to each ward. The Night Sister did her rounds night and morning but was always on hand to give us help. She used to bring us our dinner – I don't know if she cooked it herself or just warmed it up. She also used to make fudge using condensed milk. She later moved to Grenville Nursing Home in Meddon Street, as a midwife, and delivered our second son, Stephen.
There was also an almoner, a kind of social worker who dealt with non-medical problems.
There were no resident surgeons. Operations were performed by two GPs – Dr Hutchinson (?) and Dr Wake. The former had been an army doctor during the war.
At first accommodation for staff was limited and I was 'billeted' at home, for which my mum was paid 7/6d. Later accommodation became available but I stayed at home – but of course the payments stopped. Rationing was still on and we were allocated our butter and margarine. The butter didn't last long but I'd rather have eaten dry bread than the margarine so that was passed to my mother.
People stayed in hospital much longer after operations in those days and there was a regular routine to prevent bedsores. This entailed washing and rubbing the vulnerable area with soap and water and then making sure it was completely dry with talc.
Lectures were taken in a building below the main building and were taken during off duty periods.
One of our chores was cleaning out the patients' lockers. This wasn't really a chore as it was a good time to chat to the patient.
Training in those days meant two years in Bideford followed by two years in Bristol or Reading. In bigger hospitals the normal training time was three years.
My pay was £4 a month, which I suppose was pocket money as our food and uniform were supplied.
Then of course there was the sluice. All the bedpans etc were cleaned there (no throwaways). This task was usually allocated to the most junior of staff.
Elizabeth Evans.
________________________________________________________