This church was consecrated on Saturday June 28th 1890 by the Bishop of Exeter.    The cost of the site and building, over £2,000, was defrayed by the then Rector of Bideford, the Rev. Roger Granville.     At the conclusion of the service, a public luncheon was served at the Royal Hotel, and then the new cemetery at East the water was consecrated.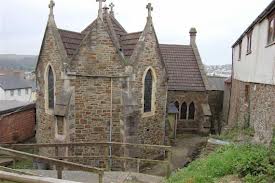 One of the greatest benefactors of the new church was Mr.C Strachan Carnegie of 'Clevelands', Northam (cousin of Andrew Carnegie who endowed Bideford LIbrary, and who opened the new library in 1906).     The stone from the building was obtained from a quarry at Cornborough and was built by Mr Glover of Abbotsham.     The church was built on the site of an allotment and a tollgate.
As the years passed the town of Bideford grew in size and the church was no longer able to accommodate them, and a larger meeting place was needed.
Sadly for numerous reasons St Peter's Church has not been in use for some time and now the sale of the building has been completed. Many people will have very happy memories of their church at East the water.
Mike Davy.
Do you have any memories of St Peter's Church? Please share them with us.
___________________________________________________________________