These photos, taken by "Buzz" shipping correspondent Norman Hardaker, show the "Matthew" as she visited Bideford on 6th March to take on stores.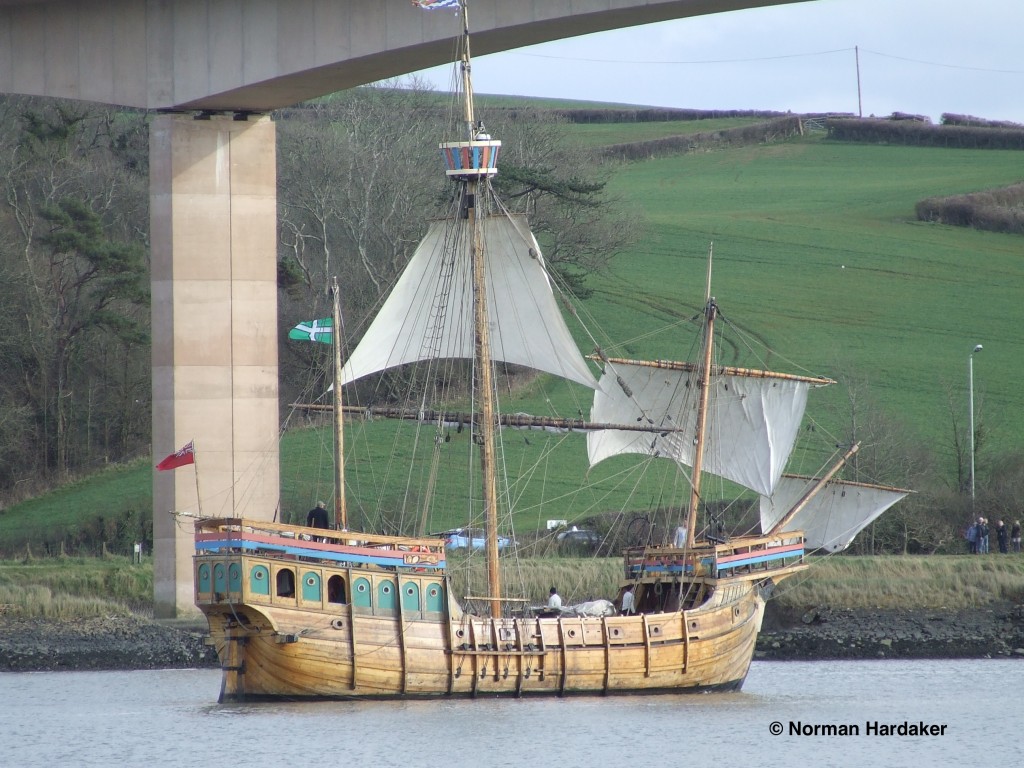 "Matthew" is a replica of the caravel used by John Cabot for his 1497 voyage from Bristol to North America.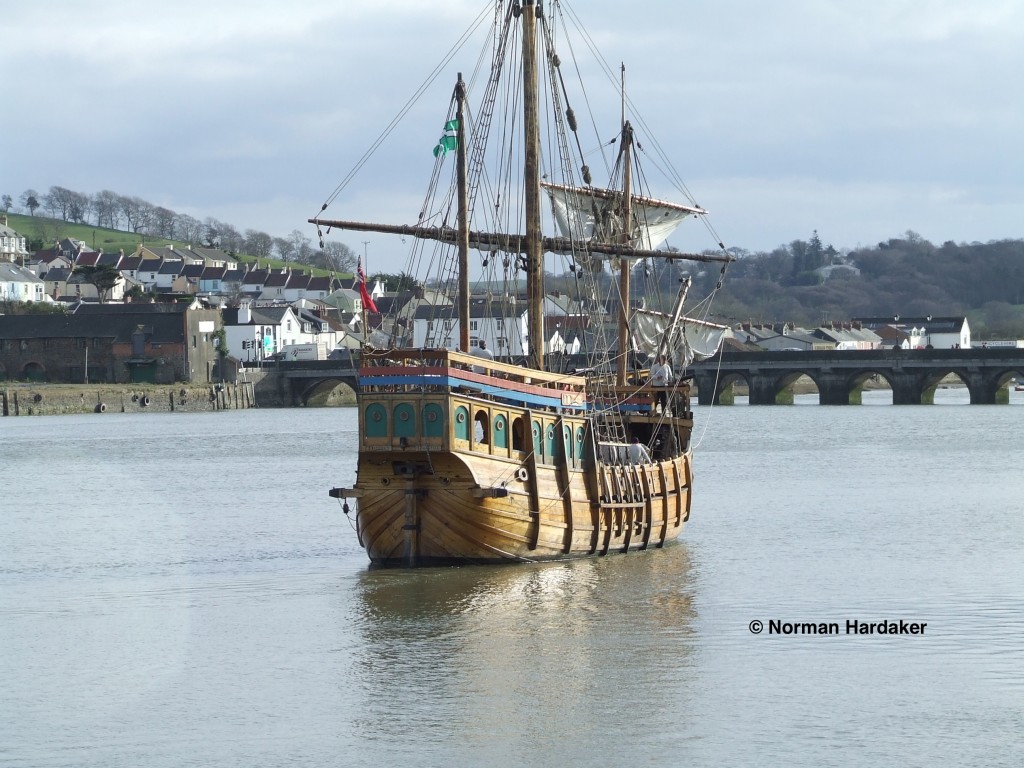 THE EXPLORER.
John Cabot  (Giovanni Caboto) , c.1450-c.1499, was an Italian navigator and explorer, commonly believed to be the first European to encounter the continent of North America since the Vikings in the 11th Century.   (Columbus 'discovered' Central and South America in 1492).  The official Canadian and UK governments' position is that Cabot landed at Cape Bonavista, Newfoundland.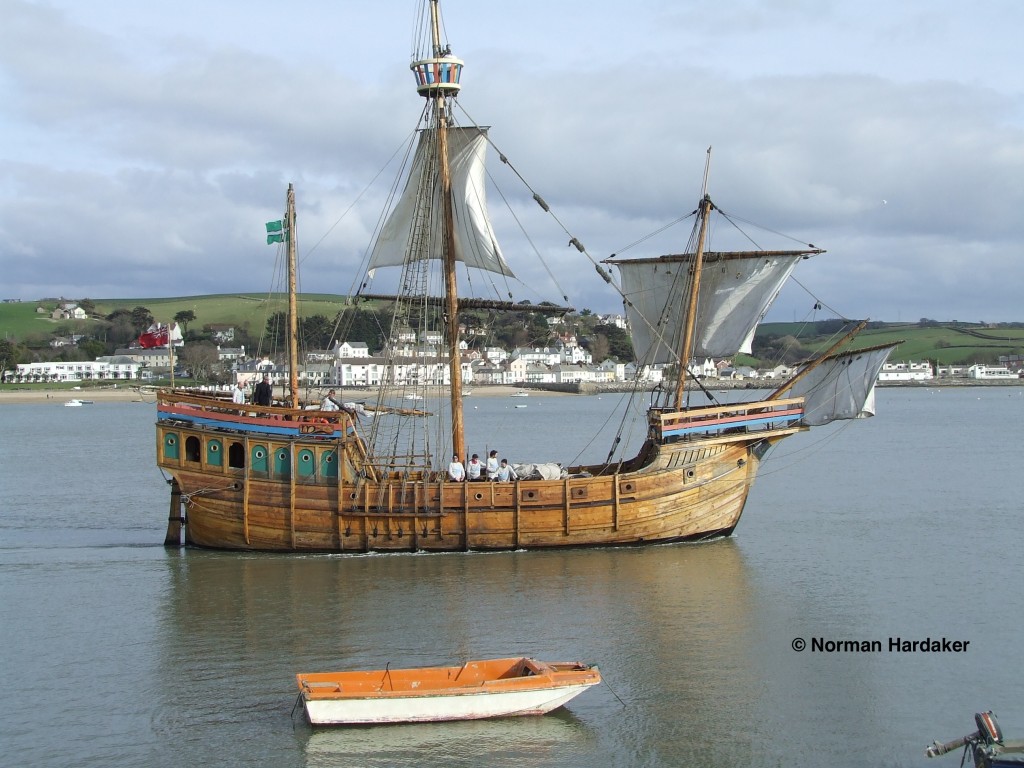 THE VOYAGES.
The object was to find a trade route to Asia by sailing westwards.  On 5th March 1496 King Henry VII granted Cabot letters patent, and he went to Bristol (then England's second-largest seaport) to prepare, setting off in the "Matthew" later in 1496 – a contemporary wrote, "he went with one ship, his crew confused him, he was short of supplies and ran into bad weather, and he decided to turn back".
The second voyage set sail from Bristol, again in the "Matthew" and with a crew of eighteen (or twenty) men, on either 2nd or 20th March 1497.  They sailed to Dursey Head, Ireland, and then due West across the Atlantic, making landfall on 24th June.    The precise landing place is a matter of controversy, the 'official' view being Newfoundland, but other candidates such as Cape Breton Island, Nova Scotia, Labrador, and Maine have been suggested.  Cabot reportedly only landed once and did not advance inland 'beyond the shooting of a crossbow', taking on fresh water and discovering the remains of a fire, a human trail, nets, and a wooden implement.   They explored the coast offshore, then departed 20th July and returned to Bristol 6th August.
The third voyage departed Bristol in May 1498 with a fleet of five ships, one of which was damaged in a storm and put in to Ireland.  The remaining four were never heard from again.
THE ORIGINAL "MATTHEW".
There is a lack of clear documentation, although a letter written by Bristol merchant John Day in 1497 (and believed addressed to Christopher Columbus) stated,  "in his [Cabot's] voyage he had only one ship of fifty toneles and twenty men and food for seven or eight months".    The name "Matthew" does not appear in the 1492/3 customs accounts, suggesting she was fairly new, an older ship renamed, or a foreign vessel.
It is believed that she was a caravel, a craft first developed by the Portuguese in the 1450's and used by them to great effect in oceanic exploration.   They were originally rigged with lateen sails, but "Matthew" was rigged as a 'caravela redondo', i.e. with square-rigged fore and main masts and a lateen mizzen.   In form, caravels had low fore- and sterncastles, a narrow ellipsoid section, and a high length-to-beam ratio of about 3.5:1, making them very fast and maneuverable but with a low cargo capacity.

THE REPLICA "MATTHEW".
The replica "Matthew" was designed by naval architect Colin Mudie and built by Storms'l Services to commemorate the 500th anniversary of Cabot's second voyage.  She was laid down in 1994, launched in 1996, and dedicated at a ceremony in Bristol's Floating Harbour.  She displaces 85 tons, is 24m long with a beam of 6.5m and draught of 2.29m,  has a sail area of 219 sq. m., and a 200hp auxiliary diesel engine.      In 1997 she sailed across the Atlantic to Cape Bonavista, arriving June 24th, and was welcomed into port by Queen Elizabeth II.
On 29th February 2012 she was transferred to The Matthew of Bristol Trust, her new home being alongside Bristol's M. Shed museum, where she is to be found in autumn and winter months.  In spring and summer she sets sail around the UK and Europe.
In June 2012 she will take part in the Diamond Jubilee pageant on the Thames.
T.A.