A nice old fashioned recipe for pancakes (courtesy of Blazeys Mill St.)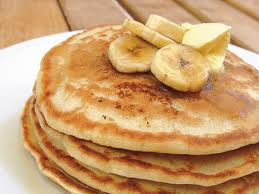 Makes 8 pancakes
INGREDIENTS
190 g plain flour
3.5 tspbaking powder
0.5 tsp salt
1 tbsp caster sugar
295 ml milk
1 tsp vanilla extract
1 egg
45 g butter – melted
In a large bowl sift together the flour, baking powder, salt and sugar.
Make a well in the centre and pour in the milk, vanilla, egg and melted butter.
Mix until smooth.
Heat a thin layer of oil in a frying pan over a medium heat, when hot pour or ladle in enough batter to cover the bottom of the pan and fry until lightly browned on the underside before flipping over and frying the other side. Stack the cooked pancakes on a warm plate whilst you make the remaining pancakes.
Serve hot either rolled up or folded with the filling of your choice.
From week commencing 13 February Blazeys will be selling homemade toffee cinnamon sauce which will go perfectly with these delicious pancakes.