News from the Exmoor Pony Centre, Ashwick, Dulverton, TA22 9QE.
The daffodils are blooming, and the warmer weather has been a blessing – the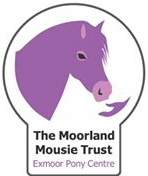 ponies are rapidly shedding their winter coats and WE ARE ABLE TO RE-OPEN THE PUBLIC ON APRIL 12TH!
If you would like to visit, we are operating a booking system so please email or call the office to book in. Visits are free and we are running 4 sessions throughout the days we are open. (Mon, Wed, Thur, Fri, Sun). There is now the opportunity to have a grooming session during your visit which must be arranged and booked in alongside your visit. Those of you who wish to ride, must be experienced riders at the moment – please keep an eye on our website because as rules change, we hopefully will be able to offer more.
With the good news of reopening, the riding ponies are all back from their holidays getting ready and fit to greet visitors and go out for rides. Our volunteers are also back in the swing of things. They've been gardening, poo picking, cleaning the yards and painting our beautiful new stable doors. There has been a bit of a facelift on the back stable yard, and we have new fencing in the back fields ready to host our forthcoming 'Ponies Helping People' initiative. If you think you would like to help volunteer either at The Centre or with any fundraising ideas, please do get in touch.
With Spring arriving, the four foals Gonzo, Kermit, Scooter and Fozzie Bear have travelled to their new home on the 800 acre grazing site in Suffolk. They all behaved impeccably on the journey and arrived totally stress free. What a great life they will have living in such a lovely place – doing what Exmoor ponies do best – eating!
We look forward to seeing some of our friends and supporters soon, the ponies are ready and waiting. Please keep up to date with us via our website and online platforms.
Website: www.exmoorponycentre.org.uk
Facebook: www.facebook.com/TheExmoorPonyCentre?
Email: info@exmoorponycentre.org.uk?
Tel: 01398 323093
____________________________________________________