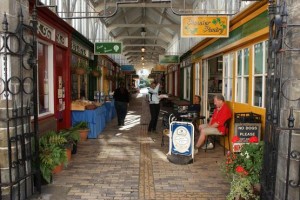 As many of you will know, Bideford was granted its Market Charter in 1272 and the present market building dates from 1884. The Market Hall which houses the Pannier Market was principally used for the sale of produce from local farms and market gardens until recent times. Now, however, although this is still the case, many other goods and services are available so we thought some information to keep you up-to-date with changes would be a good idea. Usually the Market Place and Butchers' Row shops are open six days a week, the Pannier Market Cafe on Tuesdays, Thursdays, Fridays and Saturdays while the Market itself is on Tuesdays and Saturdays.

Of fresh produce available, Butchers' Row boasts two butchers and suppliers of meat products and a fishmonger. The Pannier Market has a fruit and vegetable stall (Saturdays), vegetables and eggs, home baking and local cheeses, jams and pickles and the Country Markets Stall has a wide range of home baking and preserves. In addition, we hope to introduce a chill cabinet soon, which will augment the quantity and type of fresh food available.

Other goods and services throughout the market building include books, jewelery, toys, games, videos and DVDs, electrical goods, gas appliances, musical instruments and equipment, patchwork, sewing and knitwear, paintings, pottery, fossils and rocks, hairdressing, photography and crystals. Frank (who sells electrical accessories such as leads, batteries, digi-boxes, blank videos, tapes etc.) has just moved from the Pannier Market to a shop in Butchers Row so his products are now available daily. As there are a few shops and stalls unoccupied at the moment we'll let you know what they will provide in due course.