News from the Exmoor Pony Centre, Ashwick, Dulverton TA22 9QE
Wow, we just can't thank everyone enough for their ongoing support over the last few months. After a difficult lockdown, it has been amazing to welcome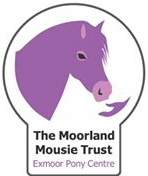 people back to the Exmoor Pony Centre throughout July, August and September. The positive response to our new ways of working and booking system has been a real boost and we hope to see lots of people throughout October before we close for the winter.
However this year our door will not be completely closed and will be left a jar so that on Monday, Wednesday and Friday afternoons 1-3pm people can drop by to have a look at our shop and hopefully stock up on Christmas cards, gifts and our 2021 Calendar. Usually we are able to attend several Festive events to sell our charitable items which are a vital part of our annual income, of course this year there are no such events being held so we are hoping people will support us by popping up to the Centre or visiting our website and purchasing items online.
On 1st October the law changed, and all equines of any age must be microchipped. Our team has been busily catching up with some old pony pals who needed to be chipped in readiness. Linzi and Lauren visited some of our ponies who graze the Quantocks to help with the process. They were able to headcollar and successfully micro-chip 3 ponies who had not been handled for 10 years!
By the time you read this, the round up of the moorland foals will be well underway and we will be awaiting the arrival of some to the Centre for handling through the Winter months. This is always an exciting time as we never know quite how many we will get! Government restrictions allowing we shall be holding our Youngstock Handling Courses this winter, please contact the Centre for more information.
The autumn and winter months see our ridden team getting the chance for a few months holiday which allows our team to work with the younger and less experienced ponies, so we are always kept very busy. Our fundraising efforts also continue, and we will be holding an Online Auction in November to help raise funds towards our work with the unwanted foals. Please check out our website and social media channels to view our awesome auction lots.
And don't forget, it won't be long now until Christmas and we have cards and calendars for sale in our online shop via our website. Cards are £4 (pack of ten) and the 2021 Calendar is a bargain at £7.50 all featuring Exmoor Pony photographs taken at the Centre, on the Moor and on conservation grazing sites throughout the UK. Every penny goes to help our ponies.
Website: www.exmoorponycentre.org.uk
Facebook: www.facebook.com/TheExmoorPonyCentre
Email: info@exmoorponycentre.org.uk
Tel: 01398 323093.
_________________________________________________