News from the Exmoor Pony Centre, Ashwick, Dulverton TA22 9QE
It has been a busy start to 2020, with 13 new foals so far arriving at the Centre,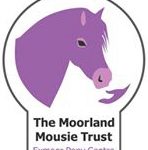 all of which will have to be handled and health checked to prepare them for future rehoming. This year they are all named for famous artists. Little Banksy, in the photo with Linzi, is much smaller than the other foals and will need some extra care and attention to get him up to full weight.
Over the Christmas period we took our stall to various local events to raise some extra money at this expensive time of year. Sales of our cards and calendars help pay for winter hay and feed which is needed by our foals. We held a successful Dog Show at Cannington and have been collecting at Tesco's in Ilfracombe, Minehead and Bideford.

Many ponies have gone out to new conservation grazing sites around the country and have all settled in well. Four of last year's foals (the ones named after cheeses) are now with Avon Wildlife Trust.
We were recently notified of some ponies in Yorkshire that were destined for slaughter and were able to rescue six of them. Three fillies and a colt are now at the Exmoor Pony Centre and are being kept in quarantine for a while before being allowed to mix with others. The two older mares are now on a grazing site in Northumberland where they can live out their days with other older mares.
We have a full calendar of Events for 2020.
Thursday, 20th February – 12 midday – 3pm.    Activity afternoon. Entry free. Small charge for activities and refreshments.
Saturday 21st March 2pm – 4pm. Celebrate Mothers' Day with a cream tea and the Exmoor ponies.
Friday 3rd April Quiz at the Sportsman's Inn, Sandyway – 7pm. Teams of 6, or just come along to make up a team on the night.?Booking: Booking essential. Charge: £12 to include carvery. Call Exmoor Pony Centre 01398 323093 or Sheila 01598 740281 to book your place.
Sunday, 5th April – Activity Day – 11am – 3pm.  Family Easter Quiz Trail. Entry free. Small charge for activities and refreshments.
Thursday, 28th May – 12 midday – 3pm
Activity afternoon. Entry free. Small charge for activities and refreshments.
Website: www.exmoorponycentre.org.uk
Facebook: www.facebook.com/TheExmoorPonyCentre
Email: info@exmoorponycentre.org.uk
Tel: 01398 323093.
______________________________________________