News from the Exmoor Pony Centre, Ashwick, Dulverton TA22 9QE.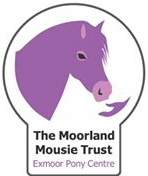 We have had a very busy summer with families on holiday boosting visitor numbers and activity days on every Thursday throughout August. Children have enjoyed seeing behind the scenes by joining our stable yard tours and finding out about aspects of our work the public don't often get a chance to see. Like Freya shown here with pony Suzannah (below), they also get to meet some more of the ponies. On many days we have been fully booked for group fun riding, taster sessions and treks so the ponies have worked extremely hard and are more than ready for their annual winter holiday.
We had an enjoyable, if rather wet and windy, day at Exford Show and we also hosted several events at the Pony Centre for the Exmoor Pony Festival week including a barbecue and quiz evening for 60 people and a talk about bloodlines by Michael Dewhurst. Linzi has also been out and about giving a series of evening talks at Holnicote Estate.
It will soon be time for the autumn gatherings so over the next few weeks we will be busy preparing for the new intake of foals. If you would like to be involved in our work, we have a couple of new job vacancies in our riding and pony care team. Job specs are on our web site and facebook page and we would love to hear from you if you are interested.
Upcoming events:
23rd and 30th October: Join our Exmoor Ponies in discovering The Wildlife of Exmoor at Night; a family friendly event with hot chocolate and marshmallows. Booking is essential. Adult £3; under 16 £2.
24th and 31st October: 12 – 3pm. Halloween activity afternoons with spooky Halloween Trail.
We will still be open every day except Tuesday and Saturday until 1st November, so do come along and see us.
Website: www.exmoorponycentre.org.uk
Facebook: www.facebook.com/TheExmoorPonyCentre
Email: info@exmoorponycentre.org.uk
Tel: 01398 323093.
______________________________________________