News from the Exmoor Pony Centre, Ashwick, Dulverton TA22 9QE.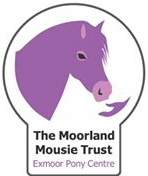 Due to the lovely weather, the whole of the Easter holidays was extremely busy and we were fully booked for rides on many days. We had a good time at the Exmoor Day in the South Molton Pannier Market when Linzi took Tom and Rama to meet the public. They attracted lots of interest from people who then visited us on the Sunday at our Activity Day where we made an Easter record breaking amount!!
We have had two very successful Birthday Pony Parties where the children, groom, ride and play games with the ponies, and Linzi has given another of her very popular presentations, this time to the Torrs Ladies Club in Ilfracombe. If you would like information on how to book a party, or a presentation or talk, please do contact us.
You may have noticed some of our re-homed ponies providing a beautiful background to an interview on a recent Countryfile programme. These ponies live on estates near Rothbury, Northumberland. Another six of our ponies are with Dorset Wildlife Trust, conservation grazing at their Powerstock Common Nature Reserve, tackling some of the tough grasses and scrub to help manage the site's biodiversity.
We have recently acquired the use of a new yard near Bratton Fleming which we plan to use for the handling of new foals and for bringing on young ponies away from the distractions of the Pony Centre. We have already started long reining and walking ponies out to get them used to the surroundings.
We would like to thank everyone who has given donations and raised funds for us, including Prism Equine Laundry who raised £184.50 by donating £50p to our charity during one month for every rug they washed. Our thanks also to everyone who contributed to the quiz at the Sportsman's Inn which raised £717. Over 80 people took part and there were lots of generous donations from local companies for the raffle prizes.
Future events include:
Sunday, 28th July – 11am – 3pm – Celebrate Summer and the 13th year of the Pony Centre.
Thursday 1st, 8th, 15th, 22nd and 29th August – Activity Afternoons – 12 midday – 3pm.
Saturday 29th Jun Cream Teas with the Ponies, 2pm – 4pm.
Wednesday 10th Jul Teddy Bears Picnic 3pm – 6pm. Celebrate National Teddy Bears Picnic Day with the ponies. Bring along your teddy, enjoy fun, games and refreshments.

Sunday 11th Aug Exmoor Pony Festival BBQ and Quiz 7pm. Join in the fun and laughter as part of this annual event, celebrating the Exmoor ponies. General knowledge questions. Booking: Booking essential. Charge: £6 per person.
Activities available at ALL the events at the Centre are: Pony Rides (the minimum age for riding is 4 years old and there is a 12 stone weight limit). Pony Grooming; Crafts & Games; Refreshments (cakes, sandwiches) served by our volunteers in our warm Green Room Building.
We are open every day except Tuesday and Saturday so do come along and see us sometime.
Website: www.exmoorponycentre.org.uk
Facebook: www.facebook.com/TheExmoorPonyCentre
Email: info@exmoorponycentre.org.uk
Tel: 01398 323093
____________________________________________