News from the Exmoor Pony Centre, Ashwick, Dulverton TA22 9QE
We currently have 11 riding ponies at the Centre but all are now getting older.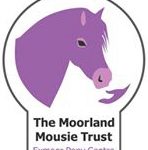 Kate will be 26 this year and still needs to be ridden, but has been removed from the adoption scheme. We are moving on with preparing new riding ponies. Buttons and Thistle are currently being backed. Pascoe and Jensen have been having more intensive training at an indoor school and are now being ridden on the open moor. Both are progressing really well and Jensen is now also available for adoption.
We have some lovely youngsters looking for foster homes. Pip and Magpie (seen in the photo below with Linzi and Lydia) and Sprite have all been gelded and handled. They are lovely friendly, easy to catch ponies. If you could offer a suitable home, please visit the fostering page on our website or give the Centre a call.
Our last quiz night at The Sportsman's Inn at Sandyway was so popular, we are holding another on 29th March at 7pm. Tickets are £12 to include carvery. For more details, call Sheila on 01598 740281.
We recently joined the West Somerset Lottery. For every £1 ticket sold we receive 60p and you could be in with a chance of winning up to £25,000. The draw is held every Saturday. Please help support us and treat yourself to a Lottery ticket. Simply go to: https://bit.ly/2SIJBQI
We have a full programme of events for the coming year.
Finally, we are still looking for two more trustees with either legal or financial experience. If you could be interested, or know of anyone who might be, please do get in touch. We would love to hear from you.
Website: www.exmoorponycentre.org.uk
Facebook: www.facebook.com/TheExmoorPonyCentre
Email: info@exmoorponycentre.org.uk
Tel: 01398 323093
___________________________________________________