News from the Exmoor Pony Centre, Ashwick, Dulverton TA22 9QE.
All seems very quiet at the Pony Centre now we are closed to the public. The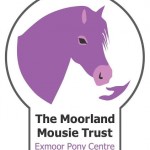 riding ponies have gone away for their winter holiday after having their waists measured and taking a trip to Wheddon Cross to be weighed. We had a lovely postcard from Fleeter Robbie and Sherbert who are having a whale of a time holidaying in north Devon with their fosterer.
However, there is still lots going on as new foals continue to arrive, and this year we have chosen 'cheese' as the theme for naming – so we have Wensleydale,
Caerphilly, Mozzarella etc. Linzi has already started handling the first arrivals and they are settling in well. Each new intake of foals means adding and replacing essential equipment and we would like to thank all the kind people, such as fosterer Liz and her Exmoor ponies Rubicon and Appletiser, who have donated items such as head collars and feed buckets through our Amazon wish list.
We must also thank Francesca and Harriet from Little Meadow riding school near Bridgwater for helping us with our fundraising. As well as managing one of our collection pots and selling our Christmas cards and calendars, they also had a cake sale day to raise money for our charity.
We have recently signed up to GIVEASYOULIVE.COM. If you are shopping online this Christmas, this is a great way to raise money for the ponies with over 4000 stores to choose from – and it doesn't cost you a penny. And thinking of Christmas presents, we have added a new pony to our list of ponies available for adoption. Jensen is our gentle giant and the biggest of all our ponies. He is a real softie and will make a wonderful adoption pony.
Looking forward a few weeks, we hope to run a Youngstock Handling Course in the New Year when all the foals have arrived. We will post more about this on our website and facebook pages in due course, or you can contact the Centre to be put on the list for further information as soon as it comes in.
We have welcomed a new trustee to our board this month. Carol Juffs brings with her a wealth of experience and knowledge and we look forward to working with her. We are still looking for a further three trustees so if you are interested, please do get in touch. And, of course, we are always pleased to meet new volunteers!
It just remains to wish you all a very merry Christmas and a happy New Year, from all of us here at the Pony Centre.
Website: www.exmoorponycentre.org.uk
Facebook: www.facebook.com/TheExmoorPonyCentre
Email: info@exmoorponycentre.org.uk
Tel: 01398 323093.
___________________________________________