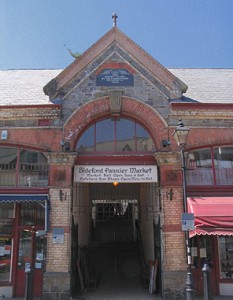 Bideford Pannier Market – Open Tuesday to Saturday, 9.00am to 4.00pm
The summer is over, but there is still plenty going on in and around the Market Complex.
October 23rd – 27th we will be joining in with Wicked Week; there will be activities taking place every day; more details will emerge later.
Don't forget you too can have a stall in the Pannier Market – just contact Richard Coombes in the Bideford Town Hall on 01237 428817 – cheapest market rates in Devon, I believe.
The free mini-bus on Tuesdays & Saturdays is proving to be a success. This is available to both local people and tourists.
Trev / Jo Hill. Minxy's Sweets.
________________________________________________