On October 1st the Gazette proclaims that it has been "The Greatest Week of the War" with the Western Front ablaze and Bulgaria surrendering; the following week we are told that "pincers are closing on the Western Front"; Franz Ferdinand's successor Charles 1 has "renounced participation in State affairs". Towards the end of October we begin to hear hints that Germany is making moves towards peace.
However on the home front, tribunals continue to take place as men are still needed. In fact a Government directive has been issued to all Chairmen of Tribunals warning them to show no favour or deviation from the required replacement soldiers. Mr W C Friendship, baker, has been exempted until March 1919 with many other men given 3 or 6 month exemptions.
The many friends of Capt. J Whitefield RNR of Westcroft, Bideford will be pleased to learn of the further honour that he has won in the discharge of his duty in seeking the destruction of enemy submarines. He has previously been awarded the Italian Bronze Medal for military valour. He has now had the Distinguished Service Cross conferred.
Alderman J M Metherell, J P and R S Chope, J P, ex -Mayor of Bideford will be among those visiting the Western Front this weekend at the invitation of the War Office.
The local food committee notices state that the maximum price allowed to be charged for milk is 7d per quart, with butter capped at 2/4d per pound.
Jam, marmalade, syrup, treacle and honey will be rationed from November 3rd. Children from 6-18 years will receive an extra ration of jam. Perkins & Son, Fruit Merchants of The Quay, Bideford, have been appointed receivers and packers of fruit for licensed jam factories. They will pay 3d per pound for blackberries and £12 per ton for small apples.
A £1 reward has been offered for information regarding the theft of birds' eggs from the museum.
The Barley Mow Inn in Mill Street, Bideford, is offered for sale.
The North Devon Permanent and Terminable Benefit Building Society based at Bridge Buildings in Bideford (established 1853) offers a rate of 3.5% on deposits. Mortgages are granted on Easy Terms.
Harvest festivals and thanksgivings are being held around the area, including at Instow, Littleham, Little Torrington and Lavington in Bideford.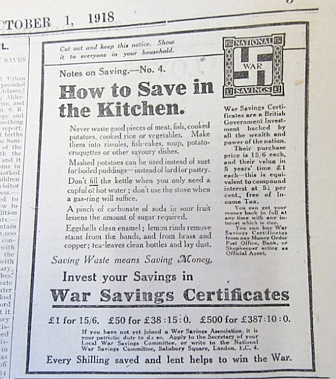 It is interesting to note that the Swastika was an international symbol signifying good luck until a German Nationalist leader adopted it in 1920, and it is now reviled world-wide.
_____________________________________________