Handy Cross POW Camp.
I am from Oberhausen, Germany, North Rhine-Westphalia.  I am currently working on a concept for a book about the World War 11 from the point of view of a German prisoner who spent his captivity at POW Camp in Bideford, Handy Cross. Specifically, it is about my father, who unfortunately died in 2007. I would like to use his memories, letters and narratives as the basis for this book.  I need information or clues that I could use in the book. I have already found some on Wikipedia. Is there perhaps further information?  For example, number of guards, how many people were housed there, did the prisoners work and where?  I have included some pictures and postcards from that time (1946-47) – below – and think he was friendly with the Watsons as shown in these photos with my father (on the left). Many thanks and best regards from Germany. 
Uwe Gross.  (Email supplied).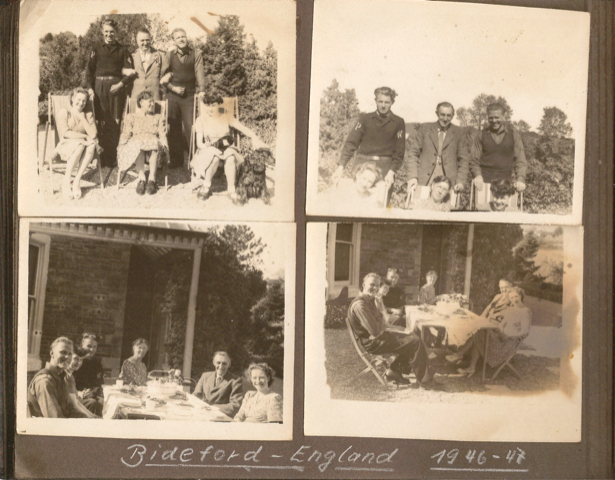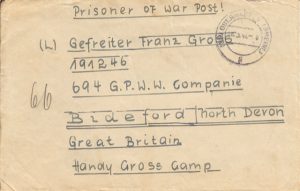 *****
Amy Pascoe.
I always read the 'Buzz' and commend you and your other volunteers for the fine little magazine. The July '18 edition took my notice with the "Ladies' Golf Celebrates 150 years".
I have been compiling a history of my wife's family ; Amy Pascoe mentioned in the article was her great great aunt. Amy was a keen sportswoman, particularly golf, and is understood to have been an acquaintance of the composer Dame Ethel Smyth (1858-1944) and the Empress Eugenie (1826-1920) of France at Farnborough Hill. She was Lady Champion, 1896, at the Royal Liverpool Golf Club, Hoylake.
Ian Harrison.
*****
Stella Temple.
The booklet on 150 years of Ladies Golf featured in your July edition (a thoroughly enjoyable read) makes mention of the sporting prowess of Miss Stella Temple. Her golf alone was of a very high standard: she accompanied the English Ladies Golf Champion to America in 1909 to compete in the U S Ladies Championship, and Miss Temple herself was runner up in the English Ladies Championship in 1912. From a family with a military background, in June 1916 she joined the Red Cross as a 'chauffeuse' – she drove vehicles in ambulance convoys to and from the big military hospitals in Northern France, latterly ranked as 'Commandant'. This work earned her the MBE in January 1919 – she died from pneumonia, following influenza on the 22nd March of that year. She is remembered on the memorial in St Margarets, Northam and on the Northam War Memorial.
I am hoping to mark the 100th anniversary of her death next year with the laying of a wreath. My researches have yet to reveal exactly where she is now buried – if any 'Buzz' reader can help me there, I would very much appreciate it.
Michael Sampson.
Name and address supplied.
____________________________________________