There is a sense of excitement in the air this Autumn as we get ready for a major exhibition opening on October 6th. Peter Rabbit : Mischief and Mayhem is a fun and interactive exhibition which tells the story of the creation of Peter Rabbit and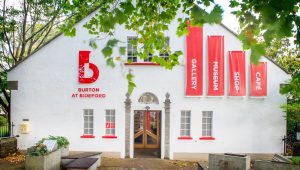 includes rarely exhibited original artworks and manuscripts as well as toys and games developed by Beatrix Potter. This exhibition is suitable for all ages and is very family friendly. (Runs until January 14th 2019).
In celebration of this we have teamed up with the Appledore Book Festival who will be showing a screening of the film Peter Rabbit (2018) at 10:30am on September 22nd at Appledore Community Hall. Tickets cost £5 and are available at www.appledorebookfestival.co.uk/event/peter-rabbit/.
The launch day on Saturday October 6th from 10:30am – 3:30pm, will be an entertaining family day, full of storytelling, prizes, fancy dress and tasty treats.
Why not join illustrator Rachel Shute for her digital drawing workshop exploring the world of Peter Rabbit, using traditional and digital drawing skills. This costs £40 and is on October 20th from 10am – 4pm. Visit www.theburton.org,or call 01237 471 455 There will also be lots of arty Peter Rabbit related children's activities during half term ; please see our website for details.
Before that, however, we have another exciting exhibition. Print Rebels: Haden, Palmer, Whistler and the origins of the RE, an opportunity to see the work of printmaking greats. We will be joined by printmaker Edward Twohig for the opening at 2pm on Saturday 22nd September. Includes a free talk and tour of the exhibition. Runs until November 4th.
The Friends of the Burton will be welcoming Jonathan Weeks for another fascinating talk on October 10th at 7.30pm. Entitled 'A blast from the past' it will be exploring weird and wonderful ancient woodwind instruments. £8.50 for members and £10 for non-members.
Don't' forget the Friends of the Burton Grand Art Auction on September 19th. Hand in a maximum of four pieces of art (no antiques or bric'a'brac please) in need of a new home ; viewings on September 20th with the auction at 6pm. Please email margaretcookson@hotmail.com for more information.
To find out more about all our events call 01237 471 455, email info@theburton.org or visit www.theburton.org. Admission is free. Open Mon-Sat: 10am-4pm; Sun: 11am-4pm.
Naomi Wilson.
_________________________________________