Our team at the Burton love Summer, as it's such a fun time. Our building is full of families enjoying activities, and tourists discovering the gems that Torridge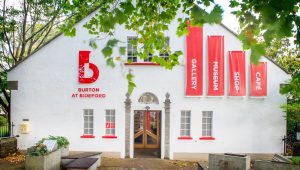 has to offer. It is super-hot as I write this, yet our galleries are cool, in both senses of the word!
The Westward Ho! and Bideford Arts Society's Annual Exhibition opens on August 11th and runs until September 16th. It is a chance to find work from local artists, and showcases over 300 pieces of art from painters, printmakers, sculptors, woodcarvers, potters and textile artists. With something for every taste, it is perfect if you want that special something.
For families there will be themed drop in sessions to get creative juices flowing. Every Tuesday and Thursday during August at a cost of £2 per child, sessions run from 10:30am – 12:30pm and 1:30pm – 3:30pm. For the intrepid explorers young and old, the Burton Adventurer's Trail will be on every day during the summer holidays, with a suggested donation of £1 per trail.
To find out more about all our summer events call 01237 471455, email info@theburton.org or visit www.theburton.org. Admission is free. Open Mon-Sat: 10am-4pm; Summer opening times (July 23 – August 31) 10am – 5pm; Sun: 11am-4pm.
The Friends of the Burton will be holding their ever popular Grand Art Auction in September. You can hand in a maximum of four pieces of art looking for a new home, on the 19th September; viewing is on the 20th September with the auction itself at 6pm that evening.
Footnote Diana Warmington would like to thank the readers of the 'Buzz', Bideford's special publication, who have expressed their appreciation of her Burton Gallery News over the years. She is now handing over to Mariam Sharp, the new Director of the Burton, who is happy to take over and spread the news of events and exhibitions at the Gallery. Diana also thanks the Buzz editors most sincerely for helping to promote the Burton with her articles over the years.
Naomi Wilson / Mariam Sharp.
___________________________________________