News from the Exmoor Pony Centre, Ashwick, Dulverton TA22 9QE
Due to the weather, it has been a particularly demanding time at the Pony Centre. As well as all the day to day tasks and clearing up after the winter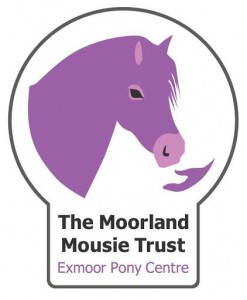 weather we are continuing with castrating and handling foals and preparing them for moving on to new homes.
At the same time, there are the riding ponies to bring up to condition for when the trekking season begins, and some new riding ponies to bring on. Jensen, who we started working with last year, is coming along well and now his pal Pascoe has begun his training, too.
Pascoe (photo below) spent his first four years with fosterers then came back to the Centre where he spent a year learning manners and acting as 'uncle' to a succession of new foals. This winter he finally began his training to be a riding pony and, as you can see from the photograph, has happily accepted wearing a bridle and is being led round the lanes by Lydia. Next step will be the saddle.
We are still looking for someone to co-ordinate our fundraising and we would love to hear from you if you think you might be interested. Thank you to everyone who supported our Fun Quiz and Carvery at the Sportman's Inn, Sandyway on 16th March, it was a fabulous evening and raised over £750 for the ponies.
Our next Activity Day at the Centre is on Thursday, 31st May, 11am – 3pm with all our usual activities. And don't forget you can visit us from 10-4 Sun, Mon, Wed, Thur and Fri. Pop in and see the ponies, have a look in our Green Room to see lots of information about the breed, their heritage and special qualities, plus learn about the work of the charity and meet some of our four-legged friends! Rides must be booked in advance.
Website: www.exmoorponycentre.org.uk
Facebook: www.facebook.com/TheExmoorPonyCentre
Email: info@exmoorponycentre.org.uk?Tel: 01398 323093
______________________________________________