It's Half Term again, from 26th May to 4th June, and the Burton offers a few Crazy, Messy, Crafty things for children to play around with. 'Crazy Faces' will be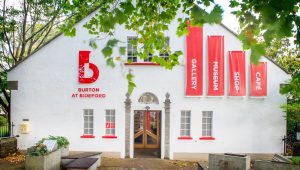 designed on 29th May by 5-11 year olds; 'Superhero City' will be recreated on May 30th, (again, 5-11 age group), and 'Messy Landscapes' for children from 6 months to 5 years, will happen on 31st May.
June 1st sees experiments with 'Attract-ive Magnets' (3-5 years). But every Monday 'Crafty Kids at the Burton' from 10-12 (£1 donation per child, please) is there for pre-school children.
The Craft Gallery hosts Rhian Malin's delicate, hand-painted ceramics, alongside all the other creations by the best craft artists in our region and beyond.
The Friends' speaker on 17th May is local author Liz Shakespeare, on 'Edward Capern, Postman Poet.' 7.30 p.m. in the Gallery, £5 at the door. All welcome.
There is also a coach outing to Prideaux Place, Padstow, on Saturday, 9th June, leaving Bideford at 9.00 a.m. Time out in Padstow after the visit. Cost: £9 entry to the house. Coach cost to be advised. Book at the Gallery, 01237 471455.
Gallery opening hours: Mon-Sat: 10-4; Sunday, 11-4. Admission Free.
Diana Warmington,
Friends of the Burton Gallery.
______________________________________