The fascinating exhibition of photographic portraits by Diane Arbus (as described in last month's Buzz) continues to hold our attention throughout April. This national touring exhibition has been drawn from the Artists' Room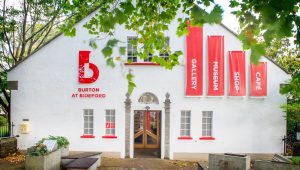 Collection, delivered by The National Galleries of Scotland and the Tate, in partnership with the Ferens Art Gallery in Hull. Funding comes from the National Lottery, through Arts Council England, the Art Fund and Creative Scotland. Here until 11th June.
The Friends of the Burton Annual General Meeting is on Saturday, 28th April, starting at 10.30 a.m. in the Kingsley Room. After the usual business, the recently appointed Executive Director of the Gallery, Chris Kirby, will speak on the Trustees' vision for the Gallery's future. All welcome.
Future events: Liz Shakespeare, local author, is giving a talk on 'Edward Capern, Postman Poet,' on 17th May, in the Kingsley Room at 7.30 p.m. £5 at the door.On Saturday, 9th June, a coach will leave Bideford at 9.00 a.m. for Padstow, to visit the Elizabethan manor, Prideaux Place.(£9 entry) Free time in Padstow in the p.m. before departure. Coach Cost to be announced when numbers are finalised. To book, phone 01237 471455.
Gallery opening hours: Monday – Saturday: 10-4; Sunday: 11-4. Admission Free. Exhibitions, Craft Gallery, Museum, Shop, Cafe du Parc, all awaiting your pleasure.
Diana Warmington.
Friends of the Burton Art Gallery & Museum.
_______________________________________________