It is reported in the 5th March edition that HMHS 'Glenart Castle', a hospital ship, was torpedoed some miles offshore between Hartland Point and Lundy on 26th February. The ship sank in several minutes and only a few of the 182 on board were saved. This action took place in an area speciality designated as a free zone and not liable to attack. (A memorial stone is on the cliff path at Hartland)
Property for Sale: Hole, Seldon & Ward offer Nos. 11, 12, & 13 Milton Place Bideford, and 1 & 2 Torridge Street, Bideford East. Also stables premises at Westward Ho! totalling ½ acre (which later became Twose Garage, now also demolished and rebuilt as Nelson Court).
Bideford Food Control. Mr R S Chope reported that requisitioned stocks are now in hand of margarine and will be available on 25rd March for general distribution. All retailers have been trained to administer the coupon rationing system except one retailer who was selling his stock without a certificate of approval. Application from dairymen to sell margarine from their carts to meet the demands of ration cards were approved. In last month's article we reported that meat was becoming very scarce. Early this month a considerable quantity of venison was made available by Mrs Clemison and distributed at markets across our region priced at 8d per pound. It is also reported that store cattle, sheep, store hogs, bullocks, cows and calves were all in good supply and fetching reasonable prices.
Bideford Council have applied for another field in the Hartland Road area, currently owned by Sir George Kekewith, to be purchased and converted to allotments. The owner is prepared to sell but the tenant objects War Agricultural powers will be invoked to compulsorily purchase the land. Since the outbreak of war the council have provided 150 allotments totalling 20 acres around the town.
Silent Knight – Minerva 6 person tourer. 4 speeds and reverse. Cape cart extension hood with side curtains. Beatsonon double folding windscreen. Upholstered in brown leather and well stuffed.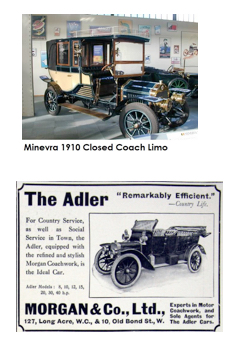 An Adler 12hp touring car – seats 5 people. Body by Morgan of London; painted dark blue. Owned by a doctor.
These and many more items of local interest are available to read at the Bideford Community Archive at the Council Offices, Windmill Lane, Northam. Tel: 01237 471714. Open Monday, Tuesday and Wednesday mornings or visit our website www.bidefordarchive.org.uk.
________________________________________