The Annual Schools Exhibition continues in all its glory, variety, and imaginings until the 5th March, so you have just a few days left to enjoy our local children's and students' colourful works of art. As always, we stand back in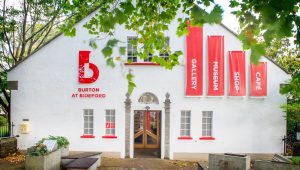 amazement at the creativity and talent displayed. Their teachers are to be congratulated on inspiring the topics, and collating the exciting work they bring every year. The Burton is proud to host such a distinctive collection of paintings, sculpture, textiles, collages, dioramas and drawings from so many of our local schools.
Diane Arbus, influential American photographer of renown, was born in 1923, and died in 1971. She knew New York City, her birth place, and regularly photographed its people, seeking out their character and personality. She is best known for her black and white portraits, and her photographs are informal, never posed. These revealing images are on show from 17th March, and during that time there will be opportunities for students to learn from this exhibition, take photographs themselves and enter a competition.. The last day is 11th June, and this exhibition is drawn from the Artists' Rooms collection, funded by the National Lottery, the Art Fund, and the Arts Council England.
Workshops in March include 'Exploring sculpture with Taz Pollard' on the 10th, and making 'Creative Linocuts' on 24th March with Helen Murgatroyd. Booking essential. 01237 471455.    Cost for the day: £40 + £5 for materials.
The Friends of the Burton always have something going on, and on 22nd March, Pamela Thompson will give an illustrated talk on 'John Gould and his Bird Artists.' These are not your everyday birds, but exotic, rare birds from faraway places, and the illustrations are stunningly beautiful.    7.30 p.m. just £5 at the door. All Welcome.
Looking ahead: The Friends invite you to their Annual General Meeting at 10.30 a.m. on 28th April, After business concludes, the newly appointed Executive Director, Chris Kirby, will be speaking on future plans for the Gallery.
On 17th May, well-known local author, Liz Shakespeare, will enlighten us on the life of Edward Capern, Postman Poet. 7.30 p.m. £5.
If you'd like a day out, come with the Friends to the Elizabethan Mansion, Prideaux Place, Padstow, (connections to Richard Grenville). Entry fee £9. Morning visit, afternoon, free time in Padstow. Depart Bideford 9.00 a.m. on Saturday 9th June. To Book: 01237 471455 Coach cost tba.
The Gallery has so much to offer: Cafe du Parc, Craft Gallery, the Bideford Museum and Ceramic Collection, and a Shop, full of delights. Admission free: Open Mon-Sat: 10-4; Sunday, 11-4.
Diana Warmington.
Friends of the Burton Gallery & Museum.
____________________________________________