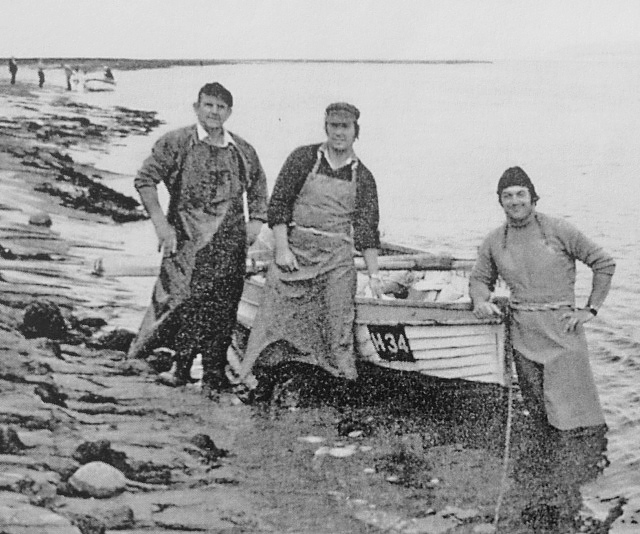 Salmon Netting in North Devon, 1988. (Photo courtesy of North Devon Museum Trust).
Tradition and heritage of our local rivers, Bideford Bay, and beyond will be the subjects of my articles in 2018. I will include a traditional, local recipe each month.
We have a thousand years of salmon fishing on the River Torridge and over five hundred years of courageous fishermen leaving Bideford East wharves for the cod-rich Grand Banks off Newfoundland. Henry Williamson made North Devon fish and fishing famous in his stories of Tarka the Otter and Salar the Salmon, and his accounts of those living and fishing in North Devon. Many local authors have carried on this tradition. If you have any interesting tales of fish and fishing, please contact me at brilliiantfishsw@gmail.com.
One of the first fish dishes I demonstrated in the 1980s was this recipe for A Celebration Salmon Pie, which I later called Admiral Sir Donald Gibson's Salmon Pie. Now it uses farmed salmon, which is fine as it has many rich favours added, and the salmon with more fat is good for cooking encroute (in a pastry crust). Enjoy and celebrate.
Admiral Sir Donald Gibson's Fish Pie.
Ingredients.
One whole (or tail piece of) salmon, or 2 tail fillets. 1lb-3lbs/500gms +
Stuffing.
2/3oz -200gms butter.
2/3oz-200gms of fresh ginger (grated).
1 lemon, zest and juice.
2/3oz -200gms sultanas.?1lb puff pastry – ready rolled pastry.
Beaten egg for glaze.
Mushroom and Champagne Sauce –
4 oz/250g button mushrooms.
1 oz/50g butter.
Cream or creme fraiche.
Champagne or sparkling wine – 2 large glasses.
Method
Melt butter, mix all stuffing ingredients.
Roll out pastry in rectangle oval shape
Put 1 fillet in centre of pastry.
Spread 3/4 of stuffing on top and cover with second fillet.
Cut pastry into 1″ (25mm) strips, starting from marking out the tail on thin end of fillets and working up to thick end.
Fold over and secure with beaten egg, from tail end in sequence.
Cook at 220 C for 20 minutes in centre of oven, then 200 C for 10-20 minutes depending on salmon weight.
______________________________________________