Just when we need cheering up in chilly February, the Burton brings forth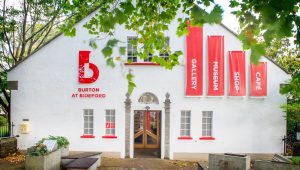 inspiration and colour in the form of Carry Akroyd's brilliant images from the natural world. Her love of nature fascinates her, not only with the wild life and agricultural use of our landscapes, but a combination of her art with the words of John Clare, the 19th century poet. 'Found in the Fields' began on the 13th January, and continues until 26th February. Carry is well known nationally, and her art has been shown in 'The Oldie' magazine for several years. Carry will be talking about her work on the 16th February, at 7.00 p.m. All welcome. Carry also hosts a Workshop on the 17th February. To book, phone 01237 471455.
If you have not already been bowled over by the Annual Schools Exhibition, you still have plenty of time to be bedazzled by it. The Exhibition began on 27th January, and continues until 5th March. Once again, you will be transfixed by the display of talent and imagination from our local youth of all ages, from Nursery to A-Level. The Burton really gets into the heart of the community with this show, bringing in families to show-off their children's artwork. It is also an accolade for the teachers who work behind the scenes, inspiring their pupils to create, yet setting them free to be imaginative and individual. This is an exhibition our schools can really be proud of.
Warren Collum is the Gallery's Exhibitions and Collections Manager. But he is also a wildlife artist, and on 24th February will help you to explore techniques and materials to use when drawing and painting outdoors. For more information, visit www.theburton.org for details.
On Wednesday, 21st February, at 7.30 p.m. the Friends of the Burton invite you to enjoy an evening with 'The Maritime World of Thomas Rowlandson' by Roger Plumtree. Rowlandson was an English artist and caricaturist, noted for his political satire and social observation. He was born in London in 1756, and died in 1827. He chronicled life in late Georgian England, and amongst his many interests was the maritime world in the age of sail, afloat and ashore. He was a superb draughtsman and satirist, and his work is to be found in many collections, here and in the U.S. All welcome. £5 at the door.
As always, the Gallery invites you to enjoy the Craft Gallery, the Bideford Museum and Ceramic Collections, the Shop and the excellent Cafe du Parc. Admission is Free.
Open every day from 10am to 4pm, except Sunday – open from 11am to 4pm.
Diana Warmington,
Friends of the Burton Art Gallery & Museum.
_______________________________________________