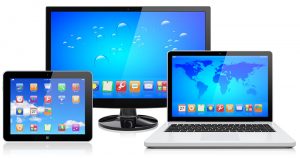 This month I thought we would start with buying a new PC or Laptop – The Do's & Don'ts.
1. Do have a clear idea of what you want the computer to do! I know this sounds silly but you'd be surprised how many people buying a new PC are still unsure what they are going to do with it! What programmes or software do you need the machine to run? Is it for business or pleasure? Are there other devices that need to be synced with it?
2. Do decide on a budget and try to stick to it.
3. Don't just buy a computer based on price. The main differences between on-line retailers and local shops are price and service. A computer is a complicated piece of equipment, so be careful to not just buy the cheapest thing you find! Ask the question, is it such a good deal, what are the return/repair costs if it goes wrong and how long will I be without the machine? Does the company have a good track record for customer service? Did you get recommended by a friend or family member? If you have limited knowledge of computing then saving a few pounds buying on-line may come back to haunt you if they have little or no support! As with everything in life, you get what you pay for.
4. Don't be baffled into buying things you don't need! Some sales staff work on commission and will try and sell extras you may never use. If you don't know what it does, just simply ask, and say no if you don't want it. Don't be baffled by computer jargon.
5. Don't get caught out with illegal software. ALL computers bought (new or old) with Windows software require a license by law. This is normally a small rectangular sticker applied to the side of the PC, or on bottom of a laptop.
Nickie Joy.
_______________________________________