Here is a Devon version of Stargazey pasties made with Clovelly herrings. These were very popular at the Herring Festival last year and will be back by popular demand this year.
Devonshire Stargazey Pasty.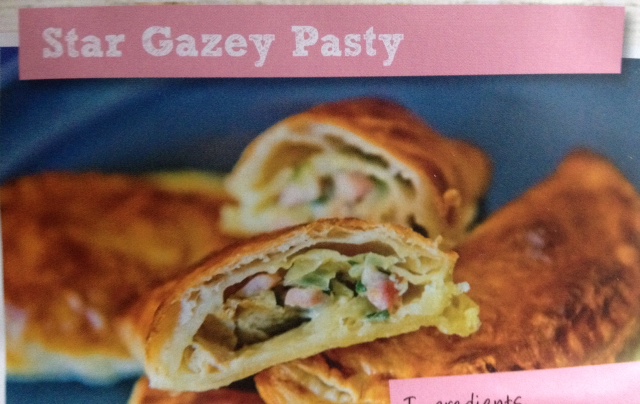 Ingredients.
450g puff pastry.
225g potato (cubed).
4/6 Herrings – filleted and sliced. rashers of bacon. 1 onion. 50g butter . 1 tbsp. chives – chopped. 1 tbsp. parsley, chopped. 275g clotted cream. Milk or egg for glazing.
Method.
Boil the potatoes for about 15mins.
Grill the bacon until the edges start browning, also slice and fry the onions in light oil until they are softened.
Chop up the cooked bacon and add to a bowl with the cooked diced potato, sliced herring fillets, chopped herbs and the softened onions and mix together.
On a floured surface roll out the puff pastry thinly and then cut rounds out to fit size 7inch/18cm side plates.
Fill the centre of each round with mixture on one half (be careful not to overfill). Add a spoonful of clotted cream on top.
Dampen the edges of the pasty with milk, fold and crimp the edges together carefully so that everything is sealed in.
Glaze with beaten egg and milk mixed, or just milk, and place on a non- stick baking tray.
Bake in the oven at 180C /gas mark 4 for 30 mins. until pastry is a golden brown.
Serve with seasonal vegetables or salad or take out with you on a walk or picnic.
Delicious with tomato chutney!
*****
Herring Month.
Remember that November is Clovelly Herring Month – the Herring Festival is on Saturday 17th this year.
Maritime historian and writer Mike Smylie will be there, with his "Kipperland" exhibition, which is devoted to the history of the herring. He will also be turning herring into delicate-tasting kippers and bloaters in his smokehouse.
There'll also be net making, flax processing and a Curragh on show provided by 'Flaxland'.
Throughout the day there will be live music, street entertainment, face-painting & henna Tattoos, an exhibition of Clovelly herring fishing, The Herring Hunt, and the National Trust event-themed children's craft activities.
Standard admission charges include all entertainment.
Come by bus.
Please note that you can travel by bus from Barnstaple and Bideford to Clovelly. Click on https://tisconmaps-stagecoachbus.s3.amazonaws.com/Timetables/South%20Wes… for the Stagecoach South West timetable.
Stalls selling fresh Clovelly herrings and Clovelly kippers will also be found in the Bideford Pannier Market, Pollyfield Community Centre, Appledore Baptist Church Hall and some Food and Craft Fayres in Appledore and RHS Rosemoor. Please see local press for details or call Felicity on 07918 779 060. Watch for Posters and flyers for more information.
__________________________________________________