November is a busy month for the Burton. We continue to enjoy Paul Lewin's spectacular scenes of North Devon in his inimitable style, using the earth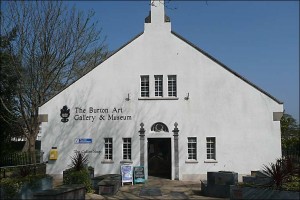 pigment, Bideford Black – (there once really was a Paint Mine at East the Water; a type of soft coal, used to paint ships' bottoms, as a waterproof coating.) Paul turns this pigment into pastels, and their strong tones are exactly right for his dramatic rocky coastline scenes. He usually paints outdoors – en plein air – and you can really feel the wind, the weather and sound of the surf. The show ends on 27th November. Don't miss it.
The Friends are holding their Open Annual Christmas Exhibition as usual this winter, starting on the 18th November in gallery 2. This is an opportunity for all local and regional artists and crafts men and women to display their work. We look forward to yet another outstanding exhibition by the talented artists in our area.
We are also looking for volunteer stewards to help manage the exhibition while it is on show, and if you have a couple of hours to spare during opening hours at any time between the 18th November and the 23rd December, I shall be pleased to hear from you. Please use the Gallery phone number for this purpose, or email me on diana.w@care4free.net It's quite painless, and you get to have a chat with a lot of people you know!
We can't get away from it, Christmas isn't that far off, and the Gallery Shop and Craft Gallery are full of gift ideas of all kinds, with books, toys, jewellery, prints, ceramics, textiles, and lots of beautifully chosen cards. Opening hours are Mon-Sat: 10-4 and Sunday from 11-4. Admission Free. All that and The Cafe du Parc and the Museum will keep you happy, under-cover, the whole day.
Diana Warmington.
Friends of the Burton Gallery.
_______________________________________________