You will notice that the Gallery foyer has now been completely refurbished with a smaller reception desk, and much more space for shop goods, giving the visitor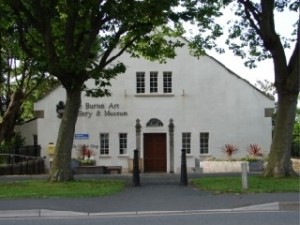 more room to move. It has opened up that entire area, and is more welcoming than the earlier high counter layout.
Attractions for September include Celia Smith's Craft Showcase in the Craft Gallery. Celia draws with wire, creating three-dimensional sculptures of birds, giving them movement and character, you almost expect them to move!
Making and decorating Slipware with Dylan Bowen on 30th September from 10am to 4pm. Cost is £40 + £5 for materials. Build and decorate clay shapes with guidance from Dylan.
The Friends have invited Warren Collum, Exhibitions and Collections Manager, to talk to us about the Christine Halstead Ceramic Collection, which was bequeathed to the Friends. Since his last talk he has documented the ceramics, both photographically and digitally. Warren will be showing how he has accessioned and organised the collection on September 20th at 7.30pm .
Artists are reminded that the Open Annual Christmas Exhibition takes place in November, and if they wish to participate, they will need to collect the Conditions of Entry form from the Gallery.
Gallery opening hours: Mon-Sat: 10am to 4pm; Sun: 11am to 4pm. Admission Free.Tel: 01237 471455 info@theburton.org www.theburton.org
Diana Warmington.
______________________________________________