The game of life.
The Olympics are a long way off. Mo Farah is still the face of meat supplements first, endurance running second, but when he leaves his bowl of high quality fungal protein alone and once again takes to the track, it will usher in weeks of inescapable sport broadcast across the BBC. If the Gods of Mt. Olympus truly are all-seeing, all they'd see for the best part of a month is running, jumping and a succession of beautiful flags. The Olympics are a great sport showcase, but they do like to dig their claws in. Not all championships are quite this domineering. Much easier to miss are the virtual championships going on right under our nose.
Yet to be taken up by a major broadcaster, eSports have certainly found a niche online. Tens of thousands tune in every day to watch video-gamers in action, mashing at computer keys with the dexterity and bloodlust of a troubled surgeon, all in the hope of sweet victory at the end. As players gear up for summer tournaments, they gear up for bigger prizes too as this year has seen a spike in funding. If you're a keen 'League of Legends' 'player, for example, then you yourself have contributed to its popularity and thus this season's lucrative sponsorship deals, which see funds rise to $4 million.
As always, hopes are high and 2017 may be the year that a winner is made in Bideford! The joy of online play is that anyone from anywhere can make a name for themselves, all they need is a computer and an internet connection- or a restaurant with free wifi… (As long as you nurse a coffee they can't possibly complain.)
The idea of earning a living from games, the same way as a tennis player, or a Formula 1 driver, may take a little getting used to, but a small echelon of people actually manage it. And why shouldn't they? They are good at what they do and each virtual match inspires the same camaraderie, passion and vindictive hatred as any other sport. This season, we have already seen snapped keyboards, smashed monitors and a cultural smorgasbord of cuss words that would make serial racket-botherer John McEnroe proud. It may not be sportsmanlike, but it sure is fun to watch.
It is a movement to look out for too, as football simulation 'Fifa 11,' along with two or more others, are set to be thrown into the Asian Olympics in 2022. Whether or not Japan will include something similar as their demonstration sport at the 2020 Olympics remains to be seen, but this will probably be 'virtual sport's last year in the shadows. At the moment, they can only be viewed first hand at Stadiums, or through streaming services like twitch.com. in their own time.
ESports don't thrust themselves under the spotlight too often, they expect to be sought out and studied.
Volunteer Week.
In other news, Tuesday the 6th was the day of the TTVS charity awards, where special nominees flocked from all over North Devon to the Milky Way tea room to meet one another, share stories over coffee and custard-cream platters and be honoured for their work . It was a real eye-opener meeting other volunteers from the breathtaking range of local charities we have – the Talking Newspaper, who spread word to the blind or partially sighted with the help of hypnotic voiced volunteers; Young carers, giving support to the supportive; Intergr8 – whose members dedicate upwards of 5 days a week to community centres and housing projects; the North Devon display gymnastics club and all they do to inspire the young; TorrAGE ageing well, and many others. New Mayor, Dermot McGeough, also saw in his 16th ceremony so far, handing out awards ( and biscuits) whilst getting to know the volunteers. Here at Youth Page, we came away with an award too – but so much more! We forged links with a lot of these great charities and the people who make them possible – no doubt we'll be hearing a lot from them all in coming months! A massive 'congratulations' to everyone there.
Millie Sutherland O'Gara.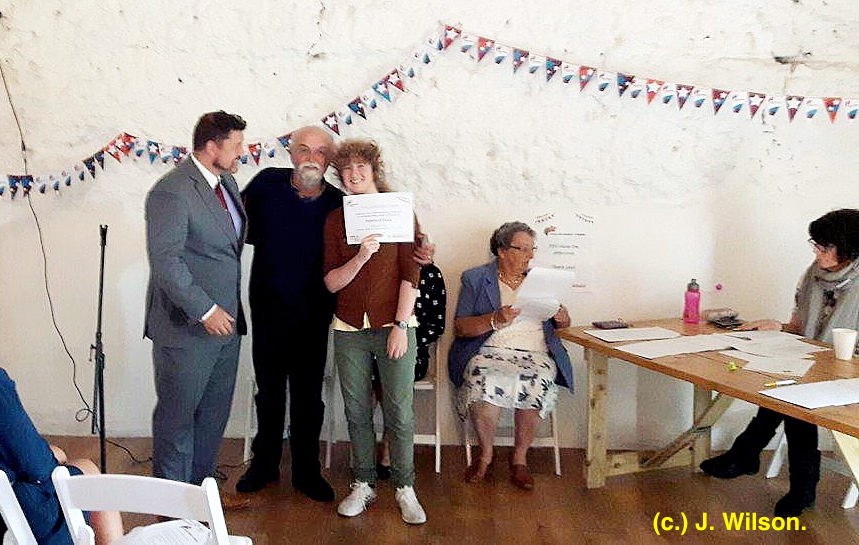 Millie (with Buzz chairman Neil Bennion) receives her award from the Mayor.
_______________________________________________