The main theme this month is the state of the food supply. In his regular column for allotment holders, "Spadeworker" encourages the growing of carrots as the most important root crop; varieties such as Red Elephant, James Intermediate and Long Surrey are recommended.
Kohl Rabi is also a good vegetable as it is not affected by drought. Also mentioned are leeks, vegetable marrows, peas and Jerusalem artichokes. Lime and soot mixed together makes an effective insecticide.
Early potatoes grown under glass at Stevenstone, near Torrington, have been lifted and have given good results.
"Cockcrow" in his column reminds poultry keepers that meat is an essential part of their birds' diet. Left-over meat scraps and offal should be cooked and mixed with meal. A good supply of fresh water is also important.
Later in the month another appeal from Mr Osborn and Mr Labbett is printed, this time asking for people to become Food Controllers. These people will take the lead in using substitutes for wheat in bread-making. Suggested alternatives include rice, oatmeal, barley, maize flour, dried peas and beans. The "Win the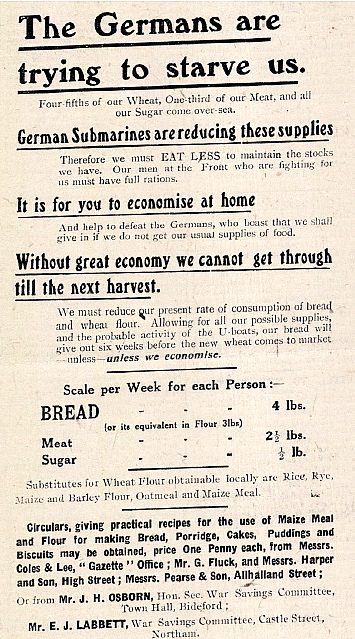 war cookery book" contains 100 useful recipes and is available from stationers and bookshops for 2d. (Does anyone have a copy of this book?)
Bakers across the area are appealing for their staff to be exempt from military service. Their argument is that people who bake bread at home eat it in larger quantities than if it is bought from a baker, thus depleting the wheat stocks.
Lord Fortescue, writing to the paper from his estate at Castle Hill, exhorts readers to avoid waste of every kind and to keep within the recommended rations. (At this time, there was no compulsory rationing imposed by the Government.)
In contrast to all the talk of shortages, Farleigh's Stores appear to have a plentiful supply of bacon, advertising in the paper every week.
Once again there are several farms up for sale. Additionally, Blackmore's Stable Yard is selling off 10 different carriages and carts, together with the harnesses, saddles and all other accoutrements.
On the back page of the paper for 22 May, the Gazette prints a column showing the Local Tide Tables for a ten-day period. (Is this the first time that this has appeared in the paper?)
These and many more items of local interest are available to read at the Bideford Community Archive at the Council Offices, Windmill Lane, Northam. Tel: 01237 471714. Open Monday, Tuesday and Wednesday mornings.
_________________________________________