The year is moving on apace, and change abounds; not just the seasons, the flora and the fauna, but also what's going on in the Burton. This year some of the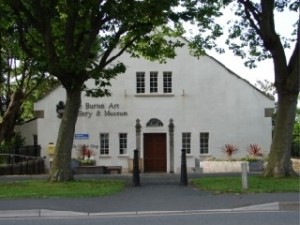 Gallery's usual events and their curators have had to accept a change, and the most significant is the annual exhibition by the Westward Ho! & Bideford Art Society. We are used to seeing works by our regional artists in July and August, but this year they have been moved to May, albeit towards the end, that is, starting on the 27th May. No matter- we always look forward to this very special collection of works in all media, representing art by some of the finest painters, ceramicists, sculptors, print-makers, textile artists and wood carvers in the South West. Most of the work is for sale, and once again we are privileged to have an opportunity to purchase original works of art. There must be many homes all over the country where such artwork is on permanent display, always admired, and possibly handed down to the next generation. How fortunate we are. This exhibition continues throughout June, and ends on 2nd July.
Craft is always a stunner in the Burton. Such a variety of craftsmanship is on show: from ceramic buttons and brooches, figurines and vases, to sea creatures and fire tongs in metal, scarves in silk and chiffon, lampshades and tea towels, to jewellery in silver and recycled materials.
The Friends invite you to join them on a coach outing to Coleton Fishacre, a National Trust property, on Saturday, 10th June, leaving Bideford Riverbank car park at 8.30 a.m. Return approx. 7.00 p.m. Cost of coach: £10. Phone the Gallery on 01237 471455 to book your seat.
There is much more to see and do in the Burton Gallery – the Museum of Bideford upstairs (lift if needed), the Shop and the excellent Cafe du Parc. Situated in Victoria Park, the Gallery looks out onto a peaceful green space, and there are plenty of activity facilities to keep children occupied, too.
Gallery opening hours: Monday to Saturday, 10am to 4pm, Sunday: 11am to 4pm. Admission free.
Diana Warmington,
Friends of the Burton Art Gallery & Museum.
__________________________________________