A belated happy and prosperous 2017 to everyone. This year I plan to visit the fish festivals in Devon and along the north coast – there will be 3 spaces in my car, so come along. Please contact me or the editor. The first in April will be the Crab Festival in Salcombe, (Mary Berry's holiday home!) then Westward Ho! Fish Festival in May, and then the Seaweed Festival in Clovelly in June.
March has 2 national saints' days! ; St David's Day on March 1st and St Piran's Day on March 5th. This recipe combines both leeks, symbol of Wales, and Cornish cauliflower that are in season now. Here is a useful family recipe that also has potatoes – a meal in one pot!
Cheesy Smoked Haddock, Cauliflower and Leek Bake. (4/8 servings).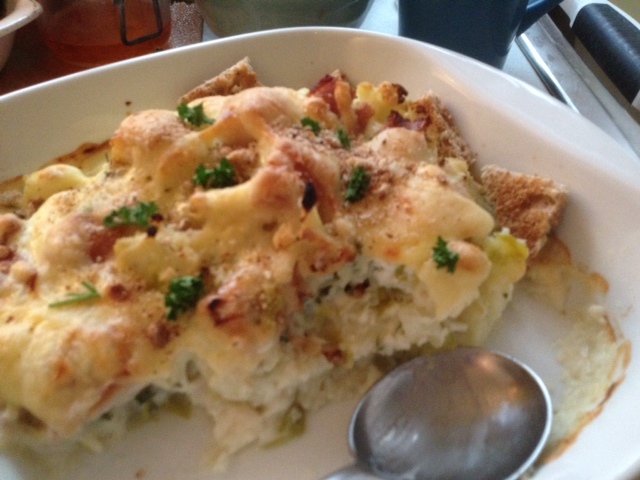 Ingredients. 2 small/medium peeled potatoes, cut into small cubes.
1 medium cauliflower, broken into small florets.
1 or 2 leeks chopped into small rings (more leeks for more people!).
300ml pouring cream and 1 heaped tbsp. cornflower.
100gm Cheddar or Gouda cheese, coarsely grated.
2 tbsp. chopped parsley and 2 tbsp. snipped chives.
500g/1lb+natural smoked haddock (or pollack, whiting, hake), skinned and cut into pieces.
Black Pepper for seasoning and Paprika for dusting.
Butter or oil for greasing dish.
Method. 1.Preheat the oven to 200C/180Cfan/Gas 6 and use a shallow oven proof dish.
2.Put the potato cubes in a large saucepan and cover with cold water, add salt and bring to the boil approx. 5 mins and then add cauliflower, and then leeks for a further 4 mins. Drain well and allow to dry in a large colander. Tip into a greased dish and season with pepper.
3. Measure the cornflour into a bowl, pour in the cream, add some salt and pepper and stir to combine.
4. Scatter half the cheese over the cauliflower, leeks and potatoes in the dish. Sprinkle the chopped herbs, then add the pieces of smoked fish, so they cover the top as an even layer. Pour the cream mixture all over the top and down through the veg. Scatter the remaining cheese and dust with a little paprika.
5.Bake in the oven for 20-25 mins until the top is light brown. Serve with extra warmed cream if required.
Next month – Devon Newfoundland Story and Salt Cod favourite recipes. Check the lovely programmes available now.
Felicity Sylvester www.brilliantfishonline.co.uk – 07918 779 060.
____________________________________________________