The death has occurred in his 90th year of the Reverend Hudson G. Heaven, whose family own Lundy Island. He had been parish priest on Lundy for 57 years. The cortege bearing his coffin embarked from Bideford on Captain Dark's skiff "The Gannet" for interment in the family vault on the island. He has been succeeded on the island by his son, Mr Walter Heaven.
At this time of the year the 'Gazette' is full of seed merchant adverts, one local supplier being Messrs. Yeo & Son. Every kind of seed imaginable is on offer. On receipt of a Postal Order for 1/6d, the gardener will receive 10 packets of assorted vegetable seeds and 4 of flower seeds. As a bonus, they will also receive a packet of "Quite Content Peas", whose pods reach an extraordinary 7" in length, and one of "Red Giant Beans" which can grow pods 15-16" long.
At Tanton's Hotel, Mr. A.W. Cock auctioned a shop and premises in Bideford High Street, immediately adjoining the Post Office, together with 3 cottages in the rear giving a back entrance from Lower Gunstone. Bidding started at £1000, but the property was withdrawn at £1500.
In financial news, 4 original shares of £10 each for the Bideford Gas Company were purchased by Mr. J. Squire, at £24 each. He also purchased 30 £5 shares in the Bideford Public Rooms Company Ltd at £2.12.6d each.
At the Bideford Town Council meeting the Lighting Committee reported that they had arranged to turn off a further 34 street lamps. In all 96 lamps have now been turned off, which comprises about half of the public lamps in the town. Most of the grumbling had ceased and it was thought they might be able to put out a few more lamps.
Mr. H.R. Bazeley questioned why a great deal of waste paper was found in the scavengers' carts. He felt it would be a benefit to the town if old paper could be repulped. At present much of it is burned on the river bank.
These and many more items of local interest are available to read at the Bideford Community Archive at the Council Offices, Windmill Lane, Northam. Tel: 01237 471714. Open Monday, Tuesday and Wednesday mornings.
***
Also from the archives (1932, not from a Century ago) – thanks Peter Christie for this:-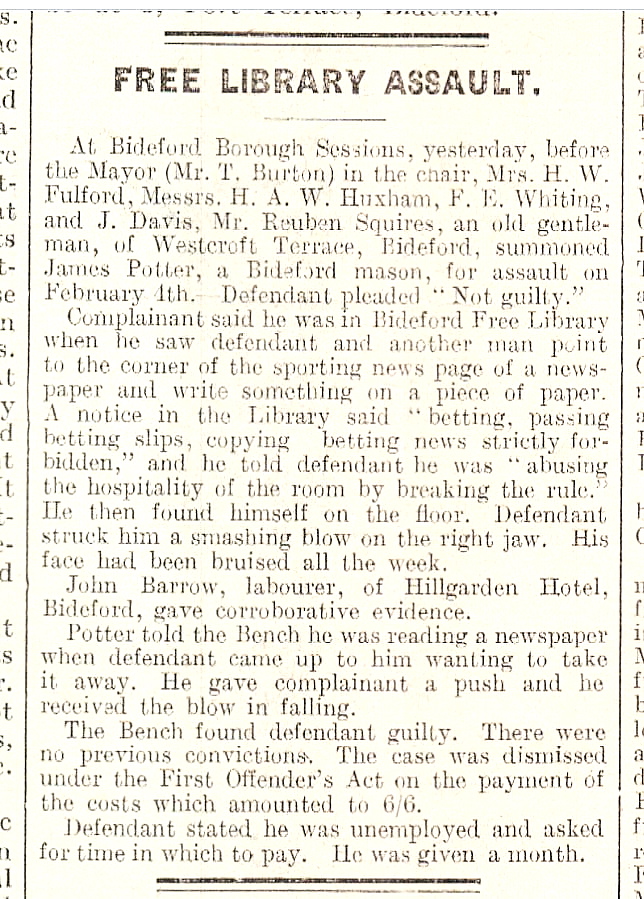 _____________________________________________________________