At the Annual meeting of the Bideford Workhouse Guardians it was announced that 26 meetings were held during the year and only 4 of the elected Guardians had attended all meetings. Some had only been present at 10 meetings and one person had only made one attendance. The War has had an effect on the number of tramps calling overnight, falling from 80 the previous year to 37 and the numbers of men fully employed or going off to fight has caused the casual numbers to fall from 2220 to 1548.
Over the Whitsun holidays, May 22/23rd, traffic has fallen by a half. No railway excursions were run and with over 3,000 men from North Devon off to war families stayed at home.
George Boyle, Motor Cycle and Bicycle agent of Allhalland Street and Queen Street, warns of a "dearth of bicycles" due to the scarcity of raw materials and shortages of manpower.
Recruiting at Bideford is quoted as being similar to or better than other towns. 540 men have enlisted and have gone to the Devonshire Territorials who are now garrisoned in India, or to the Devon Yeomanry who are defending the east coast against possible invasion. A recruiting march was organised around North Devon which stopped overnight in Bideford. 130 men were recruited into the 6th Battalion Devonshire Regiment but more are needed. Currently there are 370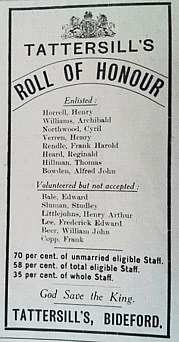 men between the ages of 18 and 38, fit or unfit, in the town. There is reluctance to volunteer, many saying that they will "Go if conscripted but not voluntarily". Tattersill's, the grocers in the town, had the advertisement (as shown) during May which seemed to reflect this growing unease generated by the war.
In other news:
For Sale at Pines Lane Bideford, 16 acres of luxuriant grass and farming implements together with one Guernsey cow in full milk. Offered by the Executors of the late H Arscott JP.
The town water supply is giving concern again. Supply is dwindling and Bideford Urban District councillors are debating whether to turn off the supply overnight.
Farleigh's Stores in High Street are selling "tempting little breakfast hams" at 7d a pound. Miss A Littlejohns of York Cottage will give lessons in the new method of "Touch" typing.
Bideford & District Community Archive, Windmill Lane, Northam. Tel: 01237 471714
____________________________________________________________