The government have announced increased separation allowances for soldier's families from the first of March: 12/6d for wives, 5/- for the first child, 3/6d for the second and 2/-for any subsequent children. These allowances will finish at the end of the war and will make a big difference to many local families where the breadwinner is away fighting for his country.
The first batch of wounded soldiers has been received at "Commons" Auxiliary hospital. Provision has been made for 36 patients in total. The house is situated at the left hand side of Atlantic Way and opposite Lakenham House. It was formerly the residence of the late Colonel Wilson Hoare, Commander of the Royal North Devon Hussars.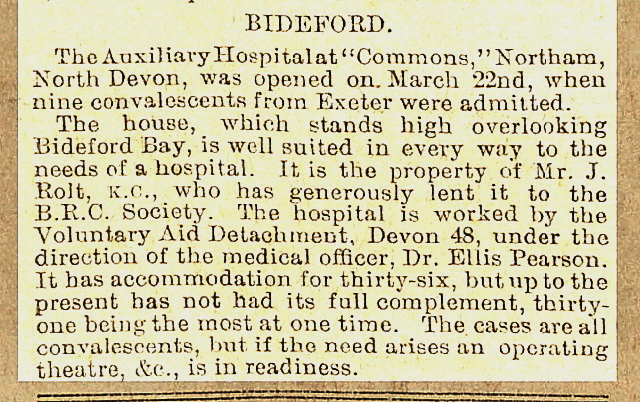 It is reported that after much negotiations Messrs Kynocks Ltd, ammunition manufacturers, intend to establish a works for the extraction from wood of acetone or cordite in its lowest state. The site is just beyond the allotments at East–the–Water and will be connected by railway sidings to the L&SW Railway and also to Barlett Bayliss timber yard who will supply the wood required.
The Licence of the Blacksmiths Arms, East–the-Water, has been transferred to the adjoining premises. The tenant is Mr Beer. Structural alterations to the New Inn have been approved and the tenant is Mr R G Court. Police sergeant Doidge said the police had no objections and the magistrates approved the changes.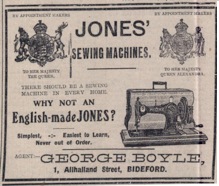 Above is George Boyle's advert this month which states the "There should be a sewing machine in every home".
________________________________________________________