Send us your Buzzes…. Write to editor@bidefordbuzz.org.uk or to the address on front page.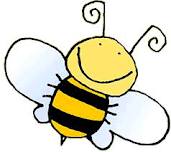 Wartime Fire Service.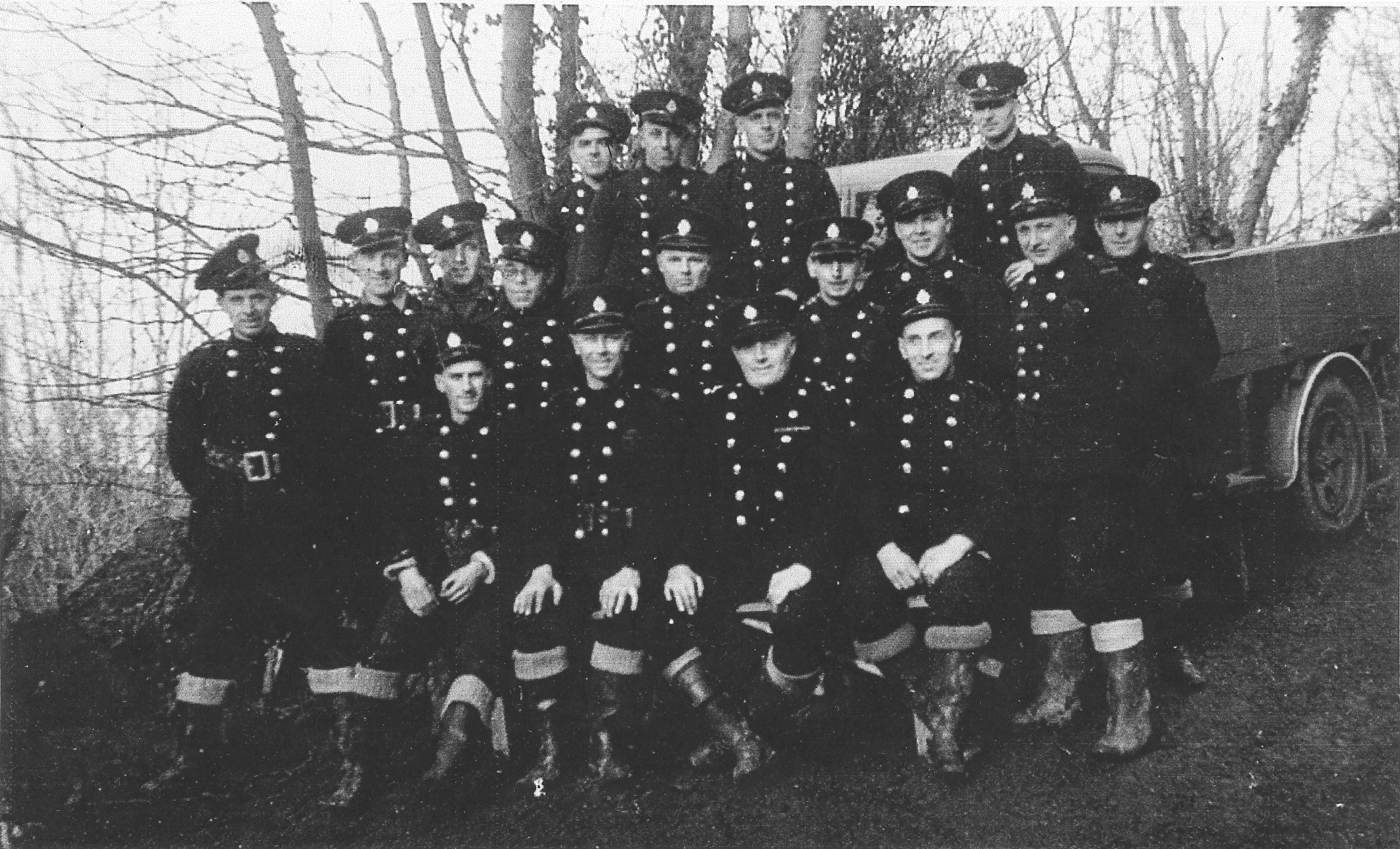 Firemen from North Devon, who crewed the Watermouth Bay "PLUTO" (Pipeline Under the Ocean) receiving terminal. This was part of the training for 'D-day'; the pipeline ran across the Bristol Channel from Cardiff. (Provisionally dated early 1943).
This photo was supplied by Mr. Coates, and was in response to last month's front page article from Appledore Maritime Museum about their current exhibit – 'Top Secret experimental work'.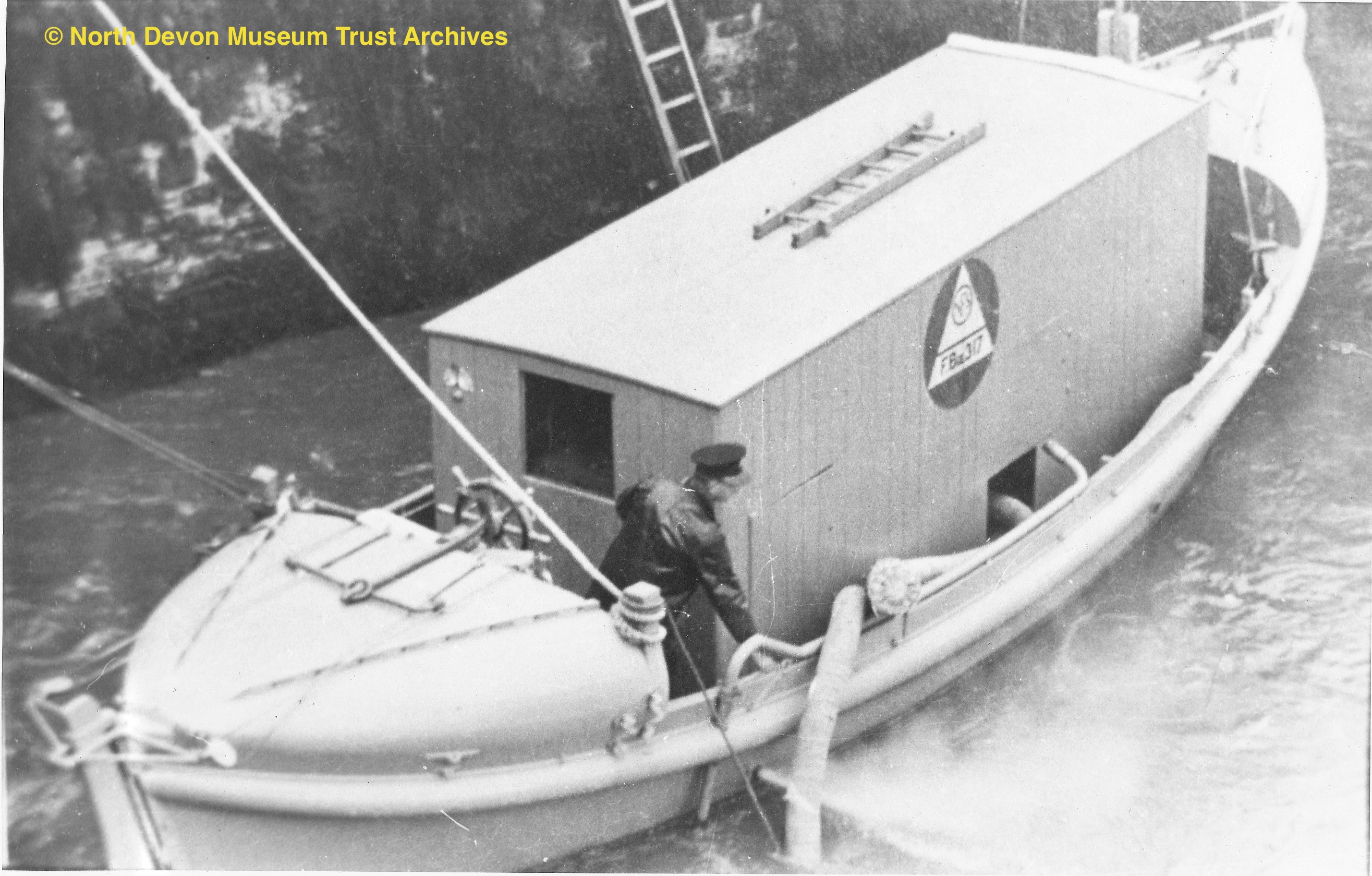 A fireboat in Bideford Harbour in WW2. (From the North Devon Museum Trust Archives) Loaned by Appledore Maritime Museum.
Encore.
By popular demand, the theatrical singing group, Encore! will be returning to Holy Trinity Church, Westward Ho! on Saturday 13th September 2014
at 7pm. Hot foot from a successful concert in London and performing before an audience of 1,000 people in the Pannier Market in South Molton, Encore! will be singing a new programme of songs for the audience at Holy Trinity Church. Their combination of four part singing, duets and solos of well loved songs from shows old and new is becoming well known throughout the area for its high quality and entertaining appeal.
Chudleigh Fort.
On a recent visit to Chudleigh Fort I was happy to see that the cannons have been re-instated. As far as I know they were last fired in August 1855, as the new ship the Sarah Newman made her way down the river Torridge. The spectators were numbered in their thousands. She was 1,220 tons in weight, length 236 ft, breadth 35ft depth 21ft and could carry 1,800 tons of cargo.The ship was built by Geo. Cox.
Derek Barnes
Singing for Parkinson's.
You may have read in recent times of how singing can be of great benefit to Parkinsonians in overcoming some of the problems we have.
These might include problems with your speech- perhaps your voice has become quieter, have difficulty in holding conversations, getting fed up with people saying "Pardon", shortness of breath, leaving other people to answer the phone, feeling a bit left out socially because of communications problems?
Poor speech can also lead to loss of confidence, and lack of self-esteem.
Parkinson's Singing groups are now being set up nationwide.
Recently a few of us have been meeting regularly to sing shanties and other unaccompanied songs. The result has been marvellous. You might have seen us singing at a couple of our events and you can see how much we enjoy it.
Not only do we have enormous fun, and enjoy our singing but the benefits are clear – clearer stronger voices, and a real lift.
Research has suggested the benefits of singing in a group and our experience has confirmed it!
We would now like to open it up to everyone, both Parkinsonians and spouses, carers, etc. in a relaxed friendly atmosphere.
You won't be asked to sing solos, nor perform in public, just join in and enjoy yourself.
There will be no charge but you might want to make a small donation towards refreshments.
What's that – you can't sing? We'll soon prove you wrong!
It would be handy to know how many people are coming so we have enough sheets, but there's nothing to stop you from just popping in. We start on 4th September. Church hall, Appledore.every Thursday afternoon1.30 to 3.30 pm except for the fourth Thursday of the month. The Church hall overlooks the main "pay and display" car park in Appledore. level access available.
Further details from Ian on Bideford 475449 or Jackie on 471216
____________________________________________________