(Bideford Community Archive at the Council offices, Windmill Lane, Northam. Tel: 01237 471714)
This was one of the first photographs ever to be published in the Bideford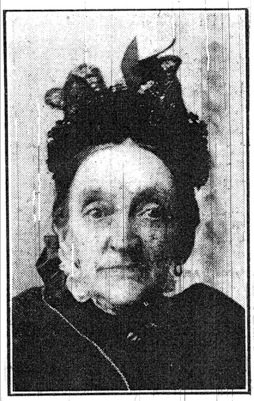 Gazette – "Elderly Bideford Resident died at 95 years of age" –
"Mrs Elizabeth Colwill, for many years resident in East-the –Water and daughter of William Lake retained all her faculties after a strenuous life. Last year she accomplished unaccompanied the railway journey from Bideford to Plymouth to visit her daughter".
Bideford is a healthy place to live. Miss Wakeley of 4 Clarence Terrace Meddon Street offers a furnished apartment in a "high healthy situation" and Mrs J C Clarke of Fernwood Clovelly Road has for rent a private apartment with H&C baths, a bracing air and magnificent views.
At a recent schools inspection absenteeism features in the report. Bideford East-the Water school had 104 present out of 114, Geneva Girls 256 present out of 290 on the register. Old Town School 301 from 340 and Gunstone 80 from 95.
Bideford Armada guns, which had been on display outside the Technical School, have been moved and remounted in the park around the new bandstand so that they can be seen to better advantage.
Bideford Hospital Committee acknowledge the following gifts- Gooseberries,onions, a dressing gown Sweet peas, lettuce and rhubarb.
It is interesting to note that in the 14th July 1914 edition is the FIRST mention of anything to do with the forthcoming war –  an entire page was given over to all the events taking place in Europe.
__________________________________________________________