Send us your Buzzes…. Write to editor@bidefordbuzz.org.uk or to the address on front page.
U tube and Pathe News.
I don't know about you but I very rarely use UTube. Until now. (It must be an age thing? ) The younger generation(s) use this all the time. However if you are connected to the internet why not have a go.  Type in Pathe News North Devon or Bideford Heritage and you'll be amazed by the number of film/video/ footage on Bideford and surrounding areas.  Pathe News has recently transferred its Archive onto UTube.  Under this heading within the Bideford area you have film of a Torpedo Boat forced by a storm onto the Pebble Beach, Westward Ho! in 1921 with the silent film caption 'High and Dry'.  Further afield and there are a number of films of Clovelly look out for the 1937 film showing the donkeys – they certainly carried heavy loads.  But I am only touching the surface here.
For train enthusiasts there is a wealth of films showing Bideford and Barnstaple, Torrington, Meeth – the lines before Beeching .  Sad in so many ways but great films nevertheless.
Make sure you have a look at the footage of the Bideford Races (Abbotsham) 1923 (featured in last month's Buzz) and we see the first women jockey.  There is a wonderful film re-creating the route of the railway from Bideford to Westward Ho! before the Great War.
'Flood Damages Bridge'. 1968 when the arches of the old Bideford Bridge were damaged by flood water is captured by news footage at the time.  Again a real treasure…..it must have taken a long time from Bideford to East the Water and vice versa.
If you enter Bideford Heritage you will come across recent events.   All local events, magical moments, of the last few years.  Two Wonders are sightings of the otter in the River Torridge February 2014 and the flight of hundreds of starlings over Bideford Bridge.
But there is so much more.  I am only touching the surface.  You may have seen some that you would like to share with Buzz readers.  Utube has a great wealth of film/video on our area.
Neil Bennion.
More about the racecourse.
Stan Andrews from the Westward Ho! History Society has very kindly hunted out some more information on the Abbotsham race course. Much of the information is to be found in Rosemary Lauder's excellent book,' Vanished landmarks of North Devon' published by North Devon Books. If out of print there are certainly copies which can be borrowed from Devon libraries. The book quotes an article from Bideford Gazette (27th September 1922) 'It is admirably situated with a magnificent view of the Bay from Croyde to Hartland Point….. the actual course runs along the valley of Abbotsham Court and Cornborough.'
(Below is Stan Andrews' photo of how the race course looks now).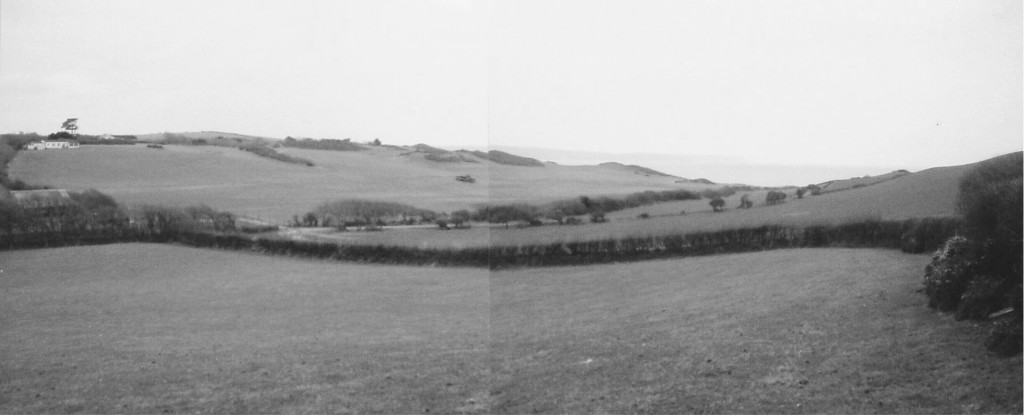 And two photos of how it looked 'then' –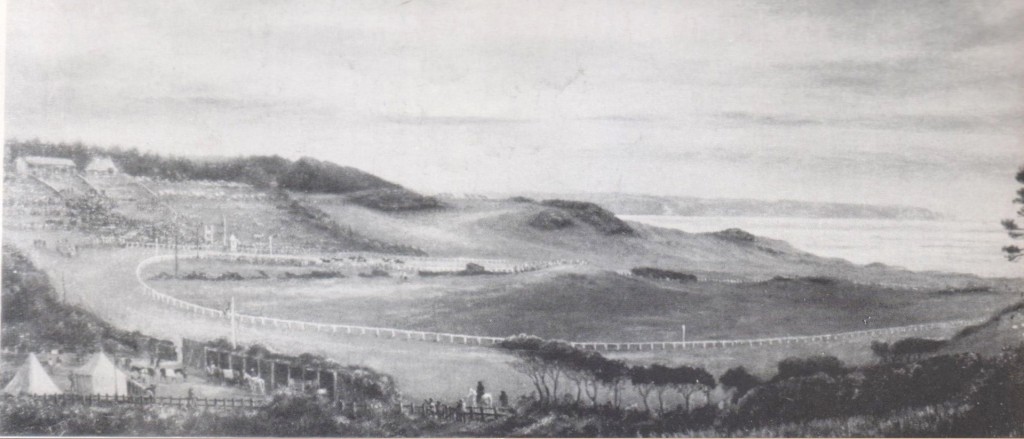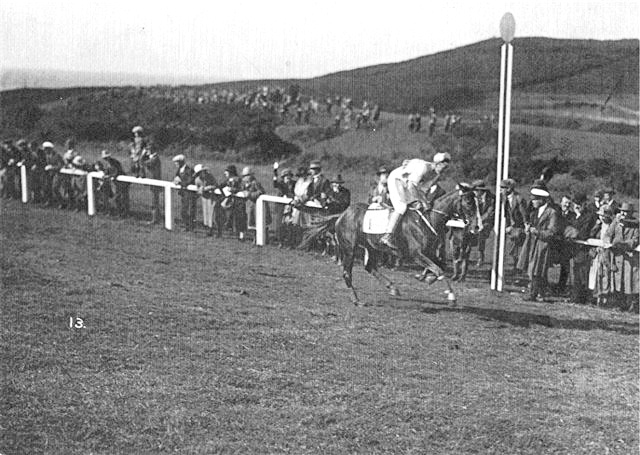 Mary Cliff.
Further to various contributions over the last few years I was most interested to see a letter in the June issue by Mary Cliff which mentions both me and my cousin John Skinner.  Unfortunately ladies have a confusing habit of changing their surname on marriage and I am most curious who Mary Cliff was in our East-the-Water days!  I wonder if you would ask her to let me know her previous name; my cousin, who does not use a computer, will be extremely interested in this name from the past. He moved from Bideford in the 1940s and is still interested in the old days.
We would both, I am sure, be most grateful for a successful outcome.
Tony Sanders (Email address: ajs777@tiscali.co.uk)
Bideford Folk Club.
On Thursday 5th June Bideford Folk Club are fortunate to be playing host to Pete Coe, one of the most enduring, talented and popular figures on the English Folk circuit.
Multi -talented and multi- instrumental, Pete is not only a fine interpreter of traditional songs and ballads, but is also a first rate songwriter. He has been at the forefront of the English Folk scene for over 40 years, and has been rightly described as "A One Man Folk Industry"
The concert starts at 8pm.He is also an accomplished dance caller, and on the following evening, Friday 6th June, he will be calling at a Ceilidh (Barn Dance) with local favourites Bloatertown Band, at Tawstock Village Hall. The dance starts at 8pm and there will be an optional Bring and Share supper.
John Blackburn.
Bideford Lions.
Lions Club of Bideford meet at the Royal Hotel, Bideford, at 7.30p.m. on the 2nd and 4th Tuesdays of the month.
Visiting Lions very welcome.
Mike Green.
Tarka Valley Railway Group.

The Chairman of the Tarka Valley Railway Group, Phil Simkin has recently and reluctantly decided to sell the Puffing Billy at Torrington Station for personal and family reasons.  Phil and his family have owned the pub for some years now and it was from Phil's initial vision and enthusiasm that the Tarka Valley Railway Group was born. The Group is pleased to advise that the new owner of the Puffing Billy is to be the Great Torrington Town Lands and Poors Charity as Phil had hoped.  This is a local charity which has been very supportive of the Group over the past few years.
News from Northam Lodge.
On Sunday 22nd June, Northam Lodge, in partnership with Skern Lodge, will be running powerboat rides on the Bideford Estuary leaving from Appledore Quay. These ½ hour exhilarating rides can be booked in advance by calling Fiona at Northam Lodge on 01237 477238 or emailing fionawhite@northamlodge.co.uk. Boat bookings are available from 12pm, with the last boat going out at 5.30pm.The cost will be £15 per adult, £10 for children aged 7-16, or why not reserve a whole boat for you and your friends. Life jackets will be provided, but be prepared to get wet! Our summer fete will be held on Saturday 26th July from 2pm to 5pm in the grounds at Rose Hill, Heywood Road, Bideford.A variety of stalls will be available for you to peruse including a sweet cart, beauty products, and arts & crafts a plenty from driftwood to bunting to cushions. There is also the opportunity to paint your own pottery, make your own button art, and have shellac nails done.Our usual cake stall and will take pride of place alongside Seasonal Samosas. Our raffle and tombola will be groaning will great gifts to win and we also cater for your little ones with a bouncy castle, hook a duck and face painting. Entertainment will be provided by the Bideford Phoenix Morris Dancers, Dance Fit Belly Dancing and Energia Samba Band.
Come along for a fun afternoon and support your local charity.
_____________________________________________________________