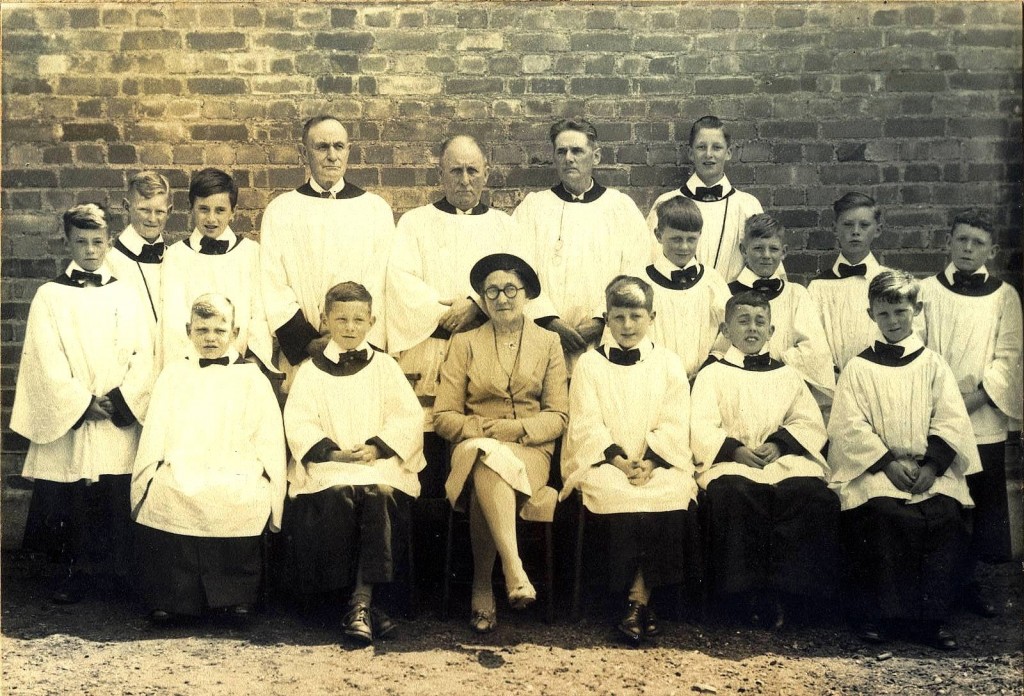 More memories of St Peter's Church.
I have just caught up with the October issue of the Buzz and was most interested in Margaret Copp's article on St. Peter's Church. A Shamwickshire boy, I was born at the bungalow which stands by the bottom gate of Pollyfield. I was a choirboy at St. Peter's for several years, and was often required to pump the organ when power failed. Mrs. Trigger was the organist at that time, also providing piano lessons at her home in Old Barnstaple Road; unfortunately I was not a successful pupil!
The initiation ceremony when I became a chorister in about 1945 was to be thrown by two older boys down the steep grassy bank near where the air raid shelter was later built. As far as I know everyone survived and became successful choirboys. I remember the annual outings which consisted either of a train ride to Ilfracombe for a short trip up the coast aboard a Campbell's paddle steamer, or a rail trip to Torrington Common for a picnic where so much fizzy pop was supplied that most of us returned to Bideford with very unpleasant stomach ache!
I attach a photograph of Mrs. Trigger and the choir which was taken in about 1947. Strange for someone who now has an awful memory I still remember all the names, which I would be pleased to supply if anyone expresses interest.
From 1939 to 1945 I attended East the Water School in Torrington Street, and remember teachers Miss Bow, Miss Braddick, Miss Huxtable, Miss Smale and Miss Moase. Mrs. Anderton was the head teacher. Only once did I experience the pain of her ebony stick across my hand – and that was for something I hadn't even done!
I hope these notes will bring back a few happy memories of childhood in Bideford to some of my pals of those far away days.
Many years on my daughter Wendy married Cris Mackie at St. Peter's, their children Louise and Ian being christened there a few years later. Oh happy days!
Anthony Sanders.
Light Up A Life.
A chance this Christmas to remember family and friends who have passed away. I know that many local people have also taken great comfort from Light Up A Life over the years and I often think about my patients and their families at this special time.
Honour the memory of your loved ones by coming to one of our Light Up A life services. Alternatively, should you prefer to share the name of your loved one, you can do so online (www.northdevonlightupalife.org.uk) or by calling Gerard on 01271 347224 or Azey on 01271 347231 with your loved ones' names and a credit card donation. In return, my colleagues will send you your own special dedication card with the name of your loved ones, which will also be included in all special Light Up A Life books of remembrance displayed at our services throughout December.All our care is provided to the local people of North Devon entirely free of charge, however it costs £4 million each year to provide this care in our community.
If you can, please make a donation to support your local hospice, because every pound you are able to donate makes a difference to the lives of so many local people whom we serve
Jude Ward (Community Nurse Specialist, North Devon Hospice).
Food Bank.
The Northern Devon Foodbank would like to thank its supporters whose big-heartedness has enabled us to provide the equivalent of almost 22,000 meals to local adults and children in crisis.As you enjoy good food and drink with family and friends, and exchange gifts and tidings of peace and goodwill throughout this festive period, please spare a thought for those people, not too far away, who are less fortunate and may not be experiencing the same simple pleasures. Charles Schulz said, "Christmas is doing a little something extra for someone", and later this month the Foodbank will be giving additional Christmassy items to those that need our support. The volunteers at the Northern Devon Foodbank wish you all a peaceful Christmas.
Ginette Berry.
On the shelf for five years.
In October 2013, I received an email from my cousin Linda, who lives in Canada, saying, 'I've just brought back a book from the boat and it occurred to me that you would find it an interesting read. It's about a young girl who travels with her parents from Illinois in 1870 to visit family in the Westcountry and in particular your "neck of the woods". I found it very interesting ……'
After much research on the Internet, I eventually located a copy – thanks to the fact that my cousin had given me the ISBN number – and found it fascinating reading, particularly as (a) my sister Enid and I were born and bred in Appledore, (b) Enid lived in Buckland Brewer for many years, and (c) my friend Jen was born and bred, and now lives, in Buckland Brewer.
When Lucy and her parents disembarked in Liverpool in 1870, their first destination in England was Instow, which is 278 miles from Liverpool by AA Route today, leave alone by train via Exeter in 1870! I was hooked! During their three months stay in England, Lucy and her parents, without prior warning, visited family and friends in places (and farms) in the West Country – Appledore, Bideford, Northam, Westward Ho! Barnstaple, Buckland Brewer, Alwington, Holsworthy, Halwill, Pyworthy, Plymouth, Launceston, Tredinnick, Fowey, Polperro and others, and finally Halifax in West Yorkshire before embarking from Liverpool on their homeward voyage.
I knew that Enid and Jen would also be interested and, not wanting to part with my own copy, I ordered two used copies from Amazon – the only place I could find Lucy's Diary.
They duly arrived and were in excellent condition. One was inscribed with a message which read 'Present to Auntie Marg on her visit to ——, 2008. Thanks for everything. My love always, Brenda'. I gave the clean copy to Enid, and the inscribed copy to Jen. When she saw the inscription Jen froze. She recognised the handwriting as being that of Brenda, the wife of her 2nd cousin, who also lives in Buckland Brewer.
To cut a long story short, after reading the book, Jen phoned 'Auntie Marg' (a distant relative) to tell her about the inscription and was surprised to learn that she knew nothing about the book – had never seen it or read it. After further thought Auntie Margaret remembered that, during her stay, Brenda had several books earmarked for charity and concluded that Lucy's Diary must have been stacked with them and accidentally given away.
And now the questions:
Why did my cousin in Canada suddenly recommend Lucy's Diary after having owned her copy since 2008? Why was I sent a used copy (which had mysteriously vanished for five years) which I then gave to Jen who just happened to know the original owner, Brenda? I could understand it if I had bought it in a local charity shop – but from AMAZON? I have since contacted the suppliers of the two books but they cannot enlighten me in any way.
Cis Snowden (now aged 84).
________________________________________________________________