(From the Bideford Gazette, 100 Years ago).
Two Bideford miners had a miraculous escape on the morning of October 14th. The Sluman brothers from Honestone Street were working at the Universal Senghenydd Colliery near Caerphilly Glamorgan and had just come up from the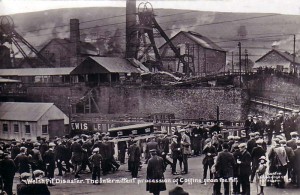 night shift. Exploding Firedamp and Methane gas killed everybody underground. In total 439 miners lost their lives and such was the damage underground that some bodies were never recovered. (The mine was to close just over thirty years later with the dubious honour of being the site of the largest mining disaster in the history of the British coalfields. )
Bideford Mayor, Hugh N G Stucley, opened a fund for the relief of widows and orphans who had suffered greatly from this disaster. He donated three guineas to start the fund. Collections were made at Gales Bijou Picture Palace, the band of the Devonshire TA gave a concert in the Pannier Market and Bideford Boy Scouts collected £15-8s- 2d. Our postcard photograph shows one of the coffins being removed.
On a lighter note, Bideford Town Council have to go "cap in hand" to Northam District Council to ask if they can secure a supply of drinking water to help alleviate a chronic shortage and an interrupted supply from their Gammaton reservoirs. Northam UDC agreed to help supply Bideford with fresh water from their Melbury reservoir.
~~~~~~~~~~~~~~~~~~~
The Brake bus from Westward Ho! to Bideford now costs 4d one way and 6d return and to Northam 3d and 5d return. Workers could buy a weekly season ticket for 2 shillings and 6d.
For further information or help with your family history research, visit the Bideford & District Community Archive at Windmill Lane Council Offices, Northam, or telephone 01237 471714
Mike Crouch.
_________________________________________________________