One hundred years ago from the Bideford Gazette
No bandstand
A  visitor reminds us that Bideford is without a bandstand in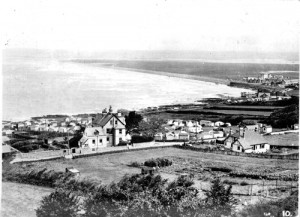 the park although it has a town band and a territorial band.
A sale of work
Opening a sale of work on the hospital ketch  Alice Fisher at Bideford Quay in aid of the Royal National Mission to Deep Sea Fishermen, the superintendent  recalled that two of the Mission vessels the Cholmondley and the Edward Birkbeck were built at Bideford and christened at Restarick's yard adjoining the  Long Bridge.
Appledore- Shipbuilding
Shipbuilding is very brisk here. The SS Penwith is in dock undergoing repairs whilst the
SS Cadoc is outside Richmond Dry dock completing repairs. The New Quay dry dock is full of work and shipwrights have their hands full.
Pleasure Trip
The last trip for the season on the SS Hebridean is a trip to Lundy leaving Bideford at 9am. Return fare is 3 shillings. Tickets from T Pollard, East the Water.
Mike Davy  (Photo courtesy of Derek Barnes)